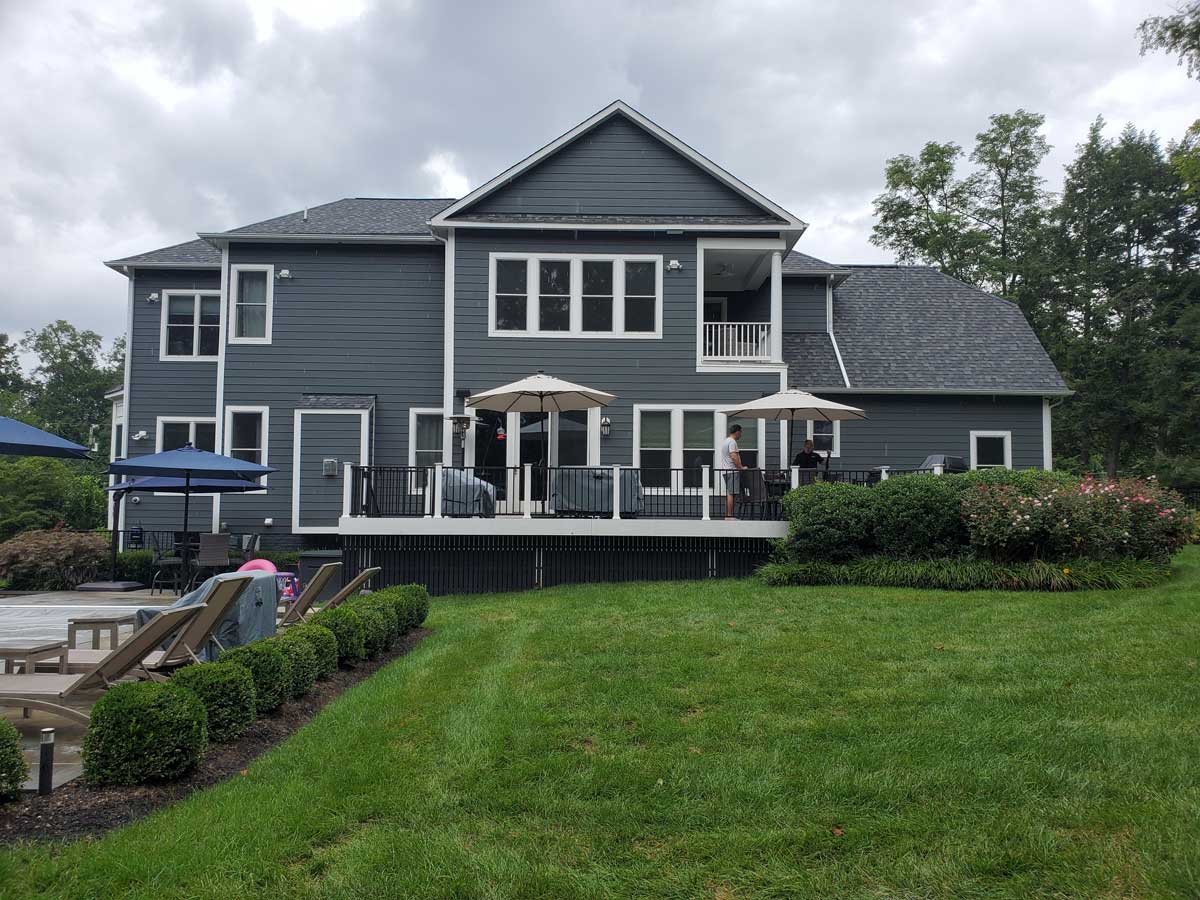 Remodeling Need
This client came to Schroeder Design Build looking for an addition to their beautiful home. They loved the house, and it already looked fabulous. Since they had an existing pool, but a disjointed deck, they wanted to enhance their lifestyle with a room addition that created a smoother transition from the pool to their home.
Upon reviewing several design options presented by Schroeder Design Build, they discovered that they wanted their space to function with more amenities—to incorporate a bar area, bathroom and workout space, and even a possible outdoor kitchen. The new plan was set.
Design Solution
The new ground-level living space was designed with a wall of windows on all four sides, including a 16-foot, four-panel sliding glass wall, to create a bright and welcoming family entertainment area with comfortable seating. Faux beams add drama to the ceiling, and enabled the clients to integrate a large-scale light fixture.
The four-seater, two-tiered custom bar is a focal point of the room addition and features engineered quartz countertops that offer the look of concrete without the maintenance. The clients enjoy a wine and beverage refrigerator, dishwasher and sink, as well as storage for alcohol, glassware, towels and other items that would be needed to entertain guests.
Industrial Meets Glam
The overall goal was to create an industrial, yet soft, design. To achieve that goal, light gray cabinets and soft-colored tile and grout were combined with black accents in the sink, faucet and appliances. The bathroom fixtures feature a Brilliance® Luxe Gold finish.
Low-maintenance, water-resistant flooring was incorporated using luxury vinyl planks that appear like wood. Geometric porcelain tiles on the stairway provide a unique transition between flooring materials of the first and second floors. These same tiles are used behind the wall-mounted television to hide the electrical components.
The fitness room features one faux beam, a fan for circulation, and outlets for a television and other devices. And from the second-floor landing, a cable rail system offers open views over the pool and patio areas. Just steps from the pool area and the sliding glass wall, a new outdoor kitchen awaits.
Challenges
The septic field came into play when preparing the new addition. It is located in the back portion of the property, which impeded and restricted how far Schroeder could build. The ground surrounding the addition also had to be tapered and adjusted, but since an existing pool and patio were to remain, the designers and production team had to integrate the addition with the existing hardscaping.
The new roof posed a design challenge as well. The client's primary bedroom features a balcony and windows overlooking the pool, and they did not want the addition to impede their view. The problem was solved with a flat roof over the addition.
Schroeder needed to blend a thickened masonry wall into the design to maintain the continuous and clean appearance of the pool room. The thick wall was turned into an extended sill that blends in nicely.
The existing deck was also an issue. It was created from a premium product and the clients were hoping to re-use at least a portion of it in the remodel. At first, Schroeder tried to preserve a portion of it, but nothing worked with the design. The original deck was ultimately replaced to blend seamlessly with the new addition.
Result
As a result of this fabulous addition, these party-goers now have a beautiful, functional area for family reunions, get-togethers, and gatherings of all types.
Trust Your Home Addition to the Design Build Professionals in Northern VA
Schroeder Design Build has worked with over 1,000 clients, many of whom have hired us to design and build a home addition. We take pride in our approach, which prioritizes the preservation of each home's unique character. Our goal is to help you rediscover the joy of your home by exploring options that fit your budget, while also incorporating modern design elements that enhance the home's overall aesthetic appeal.
When you remodel with an addition, you don't have to move to get more space. The final result is a home that looks and feels exactly as you imagined, with more room and better functionality.