Every fitness garage gym is going to look a little different—that's the beauty of the concept! By incorporating your gym into your home, you can completely customize it to your individual wants and needs. Still, there are a few essentials that most fitness experts agree that everyone should have in their home gym. Here are a few tips as offered by Andrew Schroeder, Schroeder Design/Build's CEO and a CrossFit enthusiast.
Home Garage Gym Essentials
How to Get Started
First, determine how big you want your fitness garage gym to be, and how much space you can dedicate to it. If you have a 1.5-car garage or an extended garage, you might easily be able to adjust the space to fit all the equipment you need. (We can also build you a garage addition!)
Your home garage gym should require a minimum 10' x 10' space. This will allow enough room for the pull-up bar and other essential equipment, with breathing room to really get into your workout. You don't want a tight space that will restrict your movement or make you uncomfortable, otherwise, you might not end up using your home gym as often as intended.
Tips for the Garage
To make your fitness garage gym a more comfortable workout space, and you are building your garage from the ground up, incorporate a mini-split (heated and cool area). Insulate both the room and the garage door.
Must-Haves for your Fitness Gym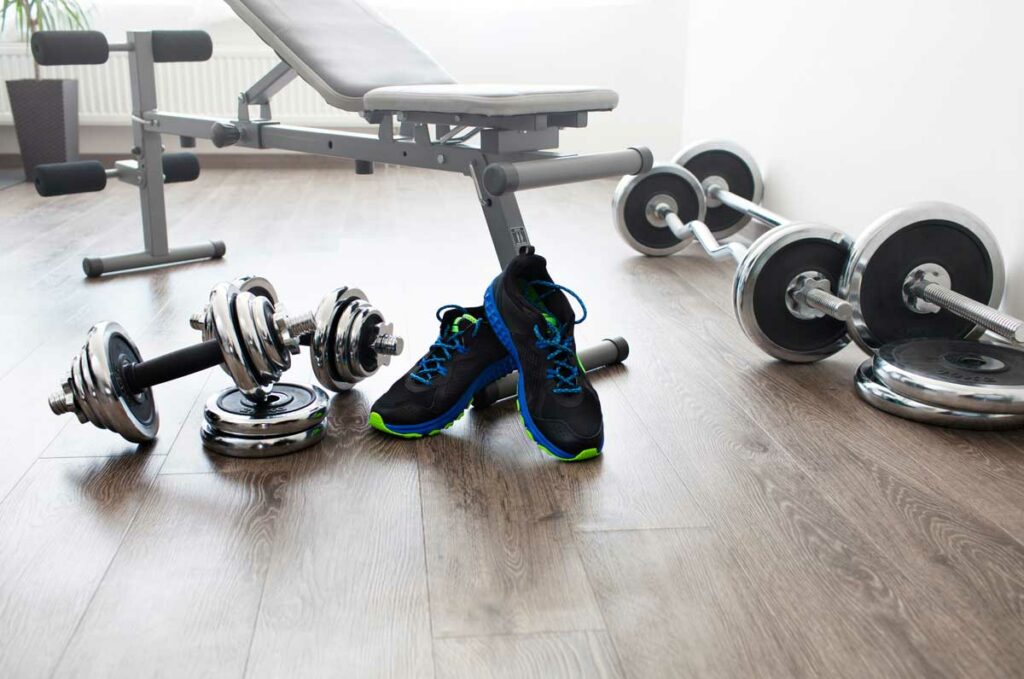 An ideal fitness gym includes these three must-have pieces or sets of equipment:
Dumbbells
Dumbbells are a necessary building block and can be incorporated into any weightlifting exercise. They are available in both fixed and adjustable styles. Make your selections based on your budget, space, and preferences. Adjustable dumbbells provide the most flexibility and they come in a variety of options," Andrew says. "The best tool to have if you are limited on space is the adjustable dumbbell set. If you have ample space, go for the full dumbbell set."
Mats
Mats help to protect your concrete slab and your weight sets. Andrew prefers horse stall mats available from the Tractor Supply Company store.
Bench
Another mandatory item is an adjustable bench that will allow angled workouts, bench presses, curls, etc.
Optional Equipment for Your Fitness Gym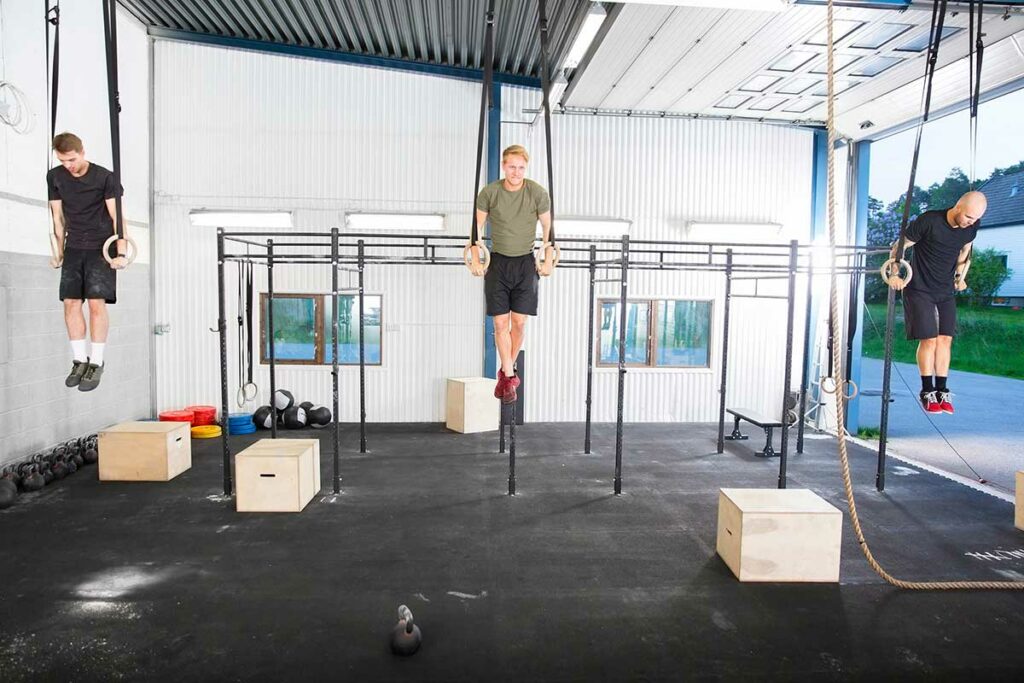 If you have the space and the budget, additionally incorporate these items into your fitness gym:
Pull-up Rig (free-standing or mounted)
A pull-up bar is one of the most effective exercises for strengthening your back muscles. As a fitness or CrossFit enthusiast yourself, you may already have one. If not, you may be able to find a bar attachment that works with your other equipment in order to save money. Or choose a stand-alone option.
Rack (full x-rack or cage rack)
For safety and stability, a full power rack is a good option, and for CrossFit athletes, a power rack can be adjusted to adapt to various exercises. A squat rack may also be preferred. Most power racks are created from heavy-duty steel tubes, with a weight capacity of more than 800 pounds. The power rack can include an overhead pull-up bar. For the cage structure, you stand inside while working out, and load your barbell onto a platform with height-adjustable safety bars. It is designed to keep weights from falling on you or damaging your floor in the case of a failed rep by using catcher arms that extend across the entire length of the cage. The platform also allows you to add accessories like resistance bands or an overhead cable pulley. It also offers the option of securing it to the home gym floor for additional stability.
Plates (bumper, metal, or rubber plates)
Not all plates are created equally. You will want to consider the pros and cons of bumper plates vs. metal vs. rubber plates. Bumper plates are formed from a high-density rubber, and bounce if dropped during movements like snatches, clean and jerks, and overhead squats, which helps protect the weight, the barbells, and your floor from damage. This makes them a good choice for a fitness gym. Choose sets in 45, 25, 10, and 5-pound increments to allow for a full-range CrossFit workout. Metal plates are created from cast iron, steel, or chrome and increase in both diameter and thickness as their weight becomes higher. They are available in 5, 10, 25, and 45-pound sizes and cannot be dropped. Rubber plates are metal plates with a thin rubber coating and may have a hexagonal shape and holes for effective gripping. They also cannot be dropped.
Barbell
You will need a barbell in order to use your plates. It is a straight, 7-foot metal bar onto which the plates are held by clamp collars (pressurized spring coils). Select any Olympic lifting-style multipurpose bar that works within your budget, or choose the typical CrossFit 20Kg bar as a splurge.
Nice To Have, But Not Required, Equipment
You'll have a great workout with the equipment we've highlighted above. But if you want to go even further, here are some nice-to-have add-ons for your CrossFit garage gym:
Cardio equipment – ski rower or stationary bike; great for lung and heart conditioning
Box – box jumps and jump-overs are important elements of CrossFit training. Choose a box with soft edges to avoid slip-and-fall injuries.
Rings
Clock timer
TV with speakers
Mirrored wall
Ab wheel
Other home gym essentials can include a weight lifting belt or straps, elbow and knee sleeves, and extra shoes. You may want to also invest in solid warmup and cooldown equipment like a set of bands for stretching, and a slingshot to loosen up hips, quads, and hamstrings.
How Andrew Schroeder Stocks His CrossFit Garage Gym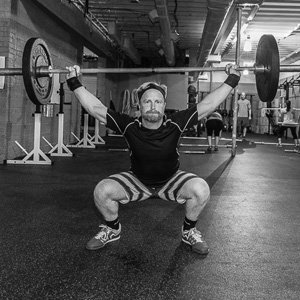 Here is what's in Andrew's own CrossFit garage gym:
Hyper volt
SSB 65#
Pulling sled
Matador dip bar
Curl Bar
Monster light rack with pull-up bar (not a full cage)
Oly bar, 45# & 35#
Cowboy power bar 45#
Trap bar 60#
Axel bar—stubby, 1.9" 20#
Fatter brushing bar, 45#
Plates (metal and bumpers), 700#
Dumbbells, 5-20 lbs. in 2.5-lb. increments; 20-25 lbs. in 5-lb increments; 50-60 lbs. in 10-lb. increments
2p KB
Fat Gripz
Erg
Ski erg
13' rope (he has 13' ceilings in the garage)
Rings on rig and from ceiling
20# and 12 wall ball
Adjustable bench
20/24/30" box
12/14/16" box
Weight vest (up to 30#)
70# wreck bag
150# sandbag
Weighted belt
Zercher harness
Play mats for lunches
AB mat and wheel
Forearm roll up
Bosu ½ ball
Parallettes
Chains, 4 x 20#
Mountain dog band set
Safety bars
Rig pulley system
Kettle bell grips
Battle rope
Schroeder Design/Build. Building More Than Just Homes in Northern Virginia
As you can see, we have expertise in more than just remodeling or building homes! We can also help you build your body, strength, and health. If you live in Northern Virginia and you'd like to build a garage addition to hold a fitness gym, or retrofit your existing garage, contact us for more information. We can be reached at 703-449-1700 or info@SchroederDesignBuild.com.
Want more? Sign up for our Monthly Newsletter to receive helpful information, highlights of exciting projects, and invitations to upcoming remodeling events.