Forget all those mother-in-law jokes. Most people love their in-laws. So much so, that we're seeing a trend in adding additional living space onto homes in Northern Virginia for multi-generational living. An in-law suite, or an accessory dwelling unit (ADU), not only creates the ideal space, it adds value to your home. If you're considering moving your in-laws into your home, here are some tips on how to design and build the perfect in-law suite for both comfort and privacy.
Consider Who Will Live There. What are Their Specific Needs?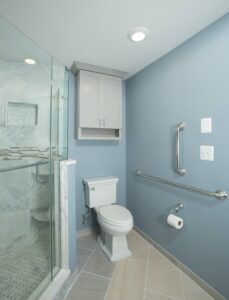 An in-law suite doesn't have to be designated just for in-laws. With multi-generational living, it can accommodate anywhere from seniors to teenagers to young adults who have been out on their own but who are returning home due to life changes or financial savings. Each has their own specific needs for privacy, independence, safety and overall use.
To accommodate the needs of all ages easily and to plan ahead for the future, incorporate Universal Design features into the remodel.
Make areas spacious to accommodate wheelchair or walker access
Include no-slip flooring, wider doorways, grab bars and handrails
Incorporate separate heating, AC, and lighting controls
Install a walk-in shower
Switch to lever handles for doors and faucets
Use safe and low-maintenance materials
Where Will You Locate the In-Law Suite?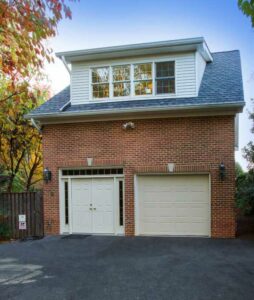 Zoning regulations and lot setbacks can play a big role in how and where you can create an in-law suite in your Northern Virginia home. Check with your qualified design/build remodeling firm prior to making any plans. They'll know the zoning, ordinance and HOA regulations and restrictions. If you're looking to accommodate senior members of the family, offering first-floor access may be the wisest placement, otherwise consider adding an elevator or chairlift.
There are many options for where to create your in-law suite:
Garage or porch conversion. An attached or detached garage or porch is normally not habitable due to its lack of insulation, heating and wall outlets. However, it does already have the framing, foundation and roof in place. That's a great start that can save on the cost of creating a space from scratch.
Attic conversion. Remodeling upwards in your house can convert an unused attic into living space. You'll want to add insulation and separate heating, and ensure that the stairway and interior spaces are large enough to meet building codes. Consider adding sound-proofing to the floor.
Basement conversion. Refinishing a basement is one of the simpler ways to add an in-law suite. Divide the space into sleeping and living spaces, and add or convert a bathroom. You may also be able to connect an outside entrance. Consider measures to protect against water infiltration and mold, and add windows for additional light and egress points.
Spare room conversion. There are likely a room or rooms in your home that aren't used regularly—like the dining room, a formal living room, den or child's bedroom. Convert a large room into a bedroom/bathroom in-law suite, combine adjacent rooms to create a larger suite, or add an addition to bump out additional space.
Addition. Depending on zoning regulations, you can raise the roof and build a second (or third) floor onto your home, or build an addition onto the side or back of the house. This allows you to design the features and spaces you desire with the least amount of space restrictions.
ADU. Another option may be the creation of a separate dwelling on your property called an accessory dwelling unit or ADU (depending upon jurisdictional regulations). This is defined as a complete and separate unit that includes a bedroom, living area, kitchen and bathroom. It can be used for family members or as an income-producing rental.
Think About the Layout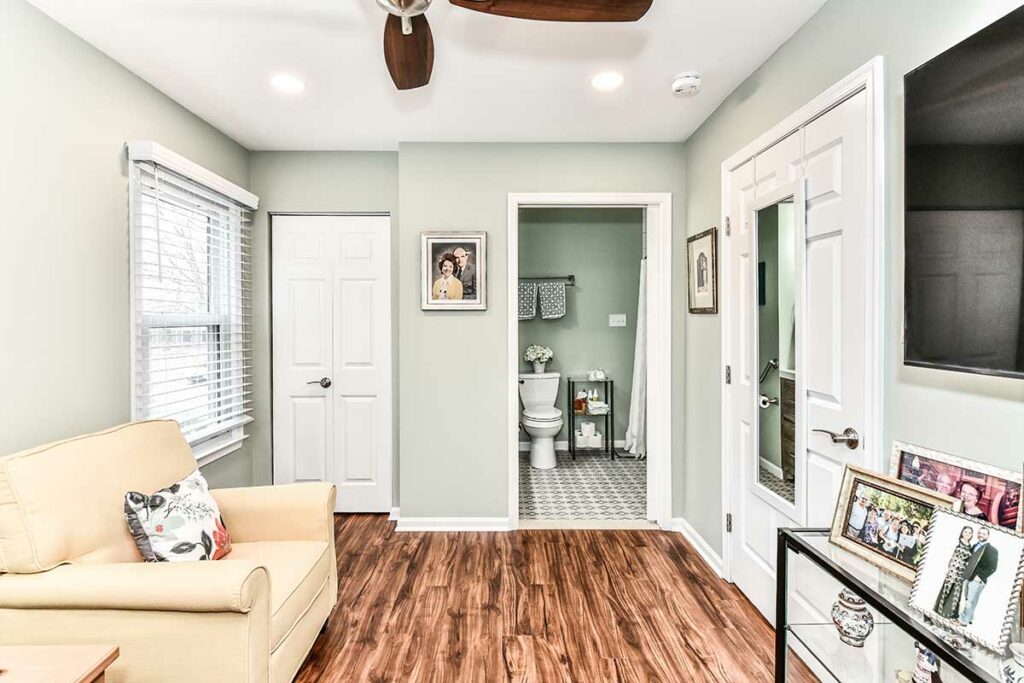 A typical "full" in-law suite can comprise a living room, full kitchen, separate bedroom and private bathroom, along with adequate storage and perhaps a separate entrance. Smaller suites can include a bedroom and sitting area adjacent to a nearby bathroom.
When thinking about layout, consider how the space will be used, and by whom. Do you need room for wheelchair access? Will you have to accommodate a disability? Is storage a requirement? Is it needed for younger or older people?
Think ahead to potential uses too. Is this suite to be used for young adults now and does it need to be ready for older adults in the future? All of these considerations should be incorporated into the original design to avoid having to make remodeling changes later on.
Are Privacy and Access Important?
Maintaining independence is often of large interest for seniors, and it is certainly a priority for young adults. Having a separate and complete living area with a separate entrance helps to enable independent living and privacy, especially helpful when living with different schedules.
Older individuals or those with disabilities may also need accommodations for access to the in-law suite in terms of first-floor living, low- or no-threshold entrances, or ramps.
Other Design Considerations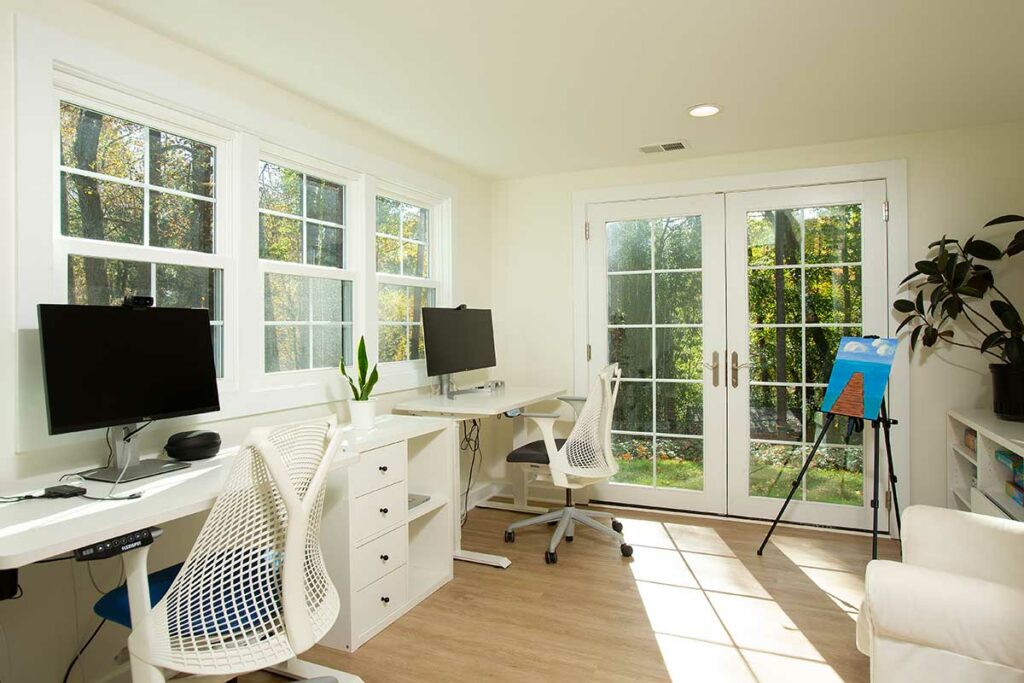 Outside of the layout, details matter. Choose features that can add luxury, comfort and style to your in-law suite in Northern Virginia.
Color palette. You may love bold, vibrant colors, but if you are not going to live in the space, choose colors that suit the resident, or neutrals that can work for any generation. Add pops of color for interest. Hold colors to a simple palette to give a sense of openness and less visual clutter.
Separate utilities. Installing separate HVAC, electrical and plumbing systems allows your in-law suite to function independently and enables the residents to set their own comfortable temperatures. A plus if you ever want to rent it out!
Cozy touches. Since this will serve as somebody's private residence, add touches that can cozy up the place, like a fireplace, sun-drenched reading nook, or a coffee/drinks station. Include space for a sofa, and chairs and a table for eating, crafting or games. Large windows and extra touches like crown molding can add a luxury feel.
Home office. If younger folks will be living here, they likely need a place to work from home. Creating a desk or workspace area can be helpful. Older folks may also want to set up a computer.
According to a Virginia Realtors' data analysis, by 2017, more than one in five (22%) Northern Virginia residents lived in a multigenerational household. With more families are becoming concerned about older parents living alone, and about the high costs of assisted living facilities, they're turning to remodeling to add or convert space in their existing homes to accommodate elderly family members.
Hire an Expert at Building Northern Virginia In-Law Suites—Schroeder Design/Build
Since 1986, Schroeder Design/Build has been transforming homes throughout Northern Virginia with award-winning remodeling. And we'd love to help make your home function well for multi-generational living with the perfect in-law suite.
Read about some of our exciting projects in our Project Stories, especially our story about a Fairfax, VA mother-in-law suite remodel with Aging in Place and Universal Design features. Then contact us to schedule a free consultation. We'll be glad to discuss the process, costs and timeline for remodeling your home.
For more ideas, tips and invitations to exclusive remodeling events, sign up for our newsletter. And be sure to follow Schroeder Design/Build on social media.