Alexandria, VA — September 14, 2023 — Tilden Memory Care, a state-of-the-art memory care facility in Alexandria, VA, has been honored with the distinguished Pioneer Award by the Residential Assisted Living Academy (RALA). The Pioneer Award recognizes innovators in the field of memory care who utilize cutting-edge technology, design, and information to create state-of-the-art memory care homes. This prestigious accolade celebrates Tilden Memory Care's commitment to pushing the boundaries of excellence in memory care services.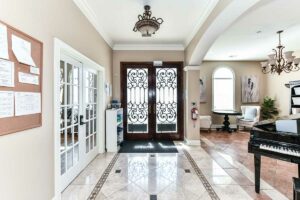 RALA, headquartered in Arizona, is a nationally recognized organization that specializes in residential assisted living homes, focusing on smaller, residentially zoned properties to provide high-quality care. They are known for introducing innovative technologies and standards to enhance the quality of care in memory care homes across the nation.
The journey to this award began when representatives from RALA visited Tilden Memory Care to install the groundbreaking CarePredict technology. Impressed by the facility's dedication to utilizing advanced technology and design to optimize the resident experience, word quickly spread back to the national organization in Arizona. RALA representatives, who help implement CarePredict in homes nationwide, were so impressed with Tilden Memory Care that they nominated the facility for the Pioneer Award.
Tilden Memory Care's commitment to innovation extends beyond technology. In an area where many assisted living facilities may not be fully optimized for dementia and memory care, Tilden Memory Care stands out. Wade Chilcoat, owner, and Dongjin Shin, his wife and co-owner, were steadfast in their determination to create a memory care home that goes above and beyond. They purchased and remodeled a single-story home, focusing on optimizing accessibility for residents, providing a comfortable and secure environment.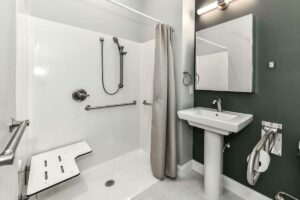 Crucial to achieving these remarkable outcomes was Schroeder Design Build, the visionary design-build firm entrusted with the comprehensive remodel project. During the initial planning phases, Wade and Dongjin joined forces in close collaboration with a highly skilled in-house designer at Schroeder, holding the esteemed Universal Design Certified Professional (UDCP) designation. Meticulous attention was dedicated to every facet of the design, with a paramount focus on seamlessly integrating universal design principles and, where necessary, adhering to ADA-compliant standards.
Tilden Memory Care employs hospital-grade tech and computer systems. They also utilize professional-grade medication carts equipped with barcode scanners. These scanners are used by both residents and staff to ensure medication accuracy. If there is any discrepancy, such as the wrong medicine, wrong time, or wrong resident, the system instantly alerts the staff, ensuring the highest level of safety and care for residents.
The Pioneer Award from RALA is a testament to Tilden Memory Care's unwavering commitment to providing exceptional memory care services. The facility's dedication to pushing the boundaries of innovation in design and technology sets a new standard for memory care homes.
For more information about Tilden Memory Care and their commitment to pioneering memory care excellence, please visit https://tildenmemorycare.com/.
About Tilden Memory Care:
Tilden Memory Care is a leading memory care facility in Alexandria, VA, dedicated to providing exceptional care and support for individuals living with memory-related conditions. The facility is known for its commitment to innovation, utilizing cutting-edge technology, and design to create a safe, comfortable, and engaging environment for residents.
About Schroeder Design Build:
Schroeder Design Build is a second-generation family-owned design-build firm headquartered in Fairfax, VA and serving Northern Virginia. As a people-centered company, we employ a diverse and highly trained team of skilled professionals who not only care deeply about their role in elevating a client's home remodeling experience, but are also empowered to grow personally and professionally.
Founded in 1986, our award-winning design-build firm has earned the loyalty of over 1,000 homeowners through exceptional service, creative design ingenuity, and superior craftsmanship. Our expertise lies in designing and building room additions, whole-house renovations, custom kitchen and bathroom makeovers, and sunrooms/porches.