The National Association of the Remodeling Industry (NARI) named Schroeder Design/Build, in Fairfax, VA, 2018 South East Region Regional CotY winner in the Entire House $500K-$750K, Green – Entire House/Addition Project, and Commercial Interior categories of its annual awards competition. The firm also won Grand CotY Awards from the local NARI Metro DC Chapter for the same three projects as well as an additional award for Residential Interior $75K-$150K.
Each year, NARI presents CotY awards to members who have demonstrated outstanding work through their remodeling projects. This is the highest form of recognition by industry leaders and peers. The entries of this year's competition totaled more than $123 million worth of remodeling projects.
"We are honored to be recognized for these three projects locally and regionally. Nearly every type of remodel we can complete has been showcased in these projects – exterior renovations, additions, kitchens, bathrooms, dining rooms, mudrooms, commercial spaces, and green remodeling. I'm very proud of our entire team who were able to deliver each of these client's unique vision for their dream home or office," said Andrew Schroeder, General Manager for Schroeder Design/Build.
Contractors from seven regions around the country vie for CotY Awards each year. Judging is based on problem solving, functionality, aesthetics, craftsmanship, innovation, and degree of difficulty by an impartial panel of industry experts. NARI named 170 Regional CotY™ Winners plus 59 team member winners. Schroeder Design/Build's three Regional CotY Winning projects will now advance as finalists at the National level.
About the CotY Winning Projects
Project 1: Capital Grand CotY and Regional CotY for Entire House $500K-$750K, Capital Grand CotY and Regional CotY for Green – Entire House /Addition Project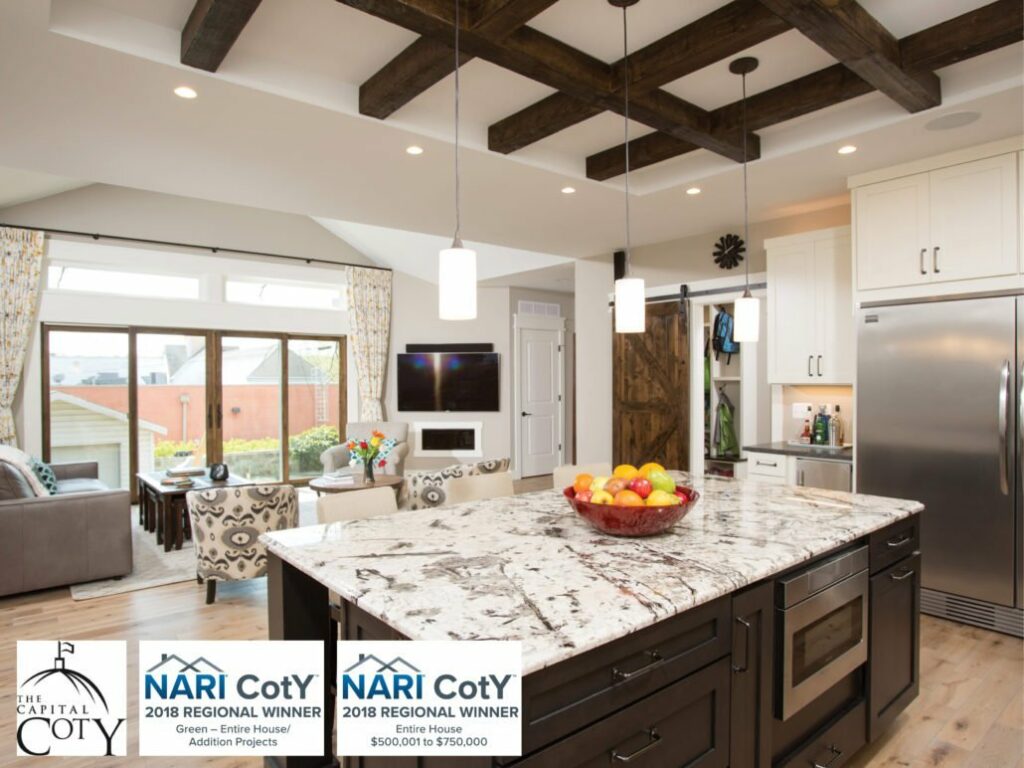 Schroeder Design/Build created a whole house renovation plan to transform a 1000 sq. ft. 1950s brick rambler into a craftsman-style home that was designed to allow the flexibility of changing the use for specific rooms in the future for their expanding family. The entire home was remodeled and included the following areas:
Beautiful covered front porch with seating areas​
Gorgeous open foyer entrance​
Home office with a universal design to be transformed to a 6th bedroom/in-law suite with its own private entrance/exit door from the front porch and private bathroom​
Formal dining room, open concept gourmet kitchen and great room, walk-in pantry and mudroom, and two-car garage​
Basement with its own private egress, a living space, one bedroom, one full bathroom and a large storage closet space​
3 bedrooms upstairs, one to be used as a guestroom and two kids room, one private full guest bathroom, a Jack-and-Jill bathroom shared between two children's bedrooms and a play area​
Large Master Suite upstairs with an open concept floor plan that allowed a living room area in the bedroom, master bathroom with large walk-in shower, soaking tub, double sink vanity, and a master closet; and only one door to access the Master Suite, no doors to the bedroom, bathroom, and closet​
A two-car garage large enough to accommodate two cars, space to load and unload the cars, and storage around the perimeter
You can read more about this project online here and view a before and after video here.
Project 2: Regional CotY and Capital Grand CotY for Commercial Interior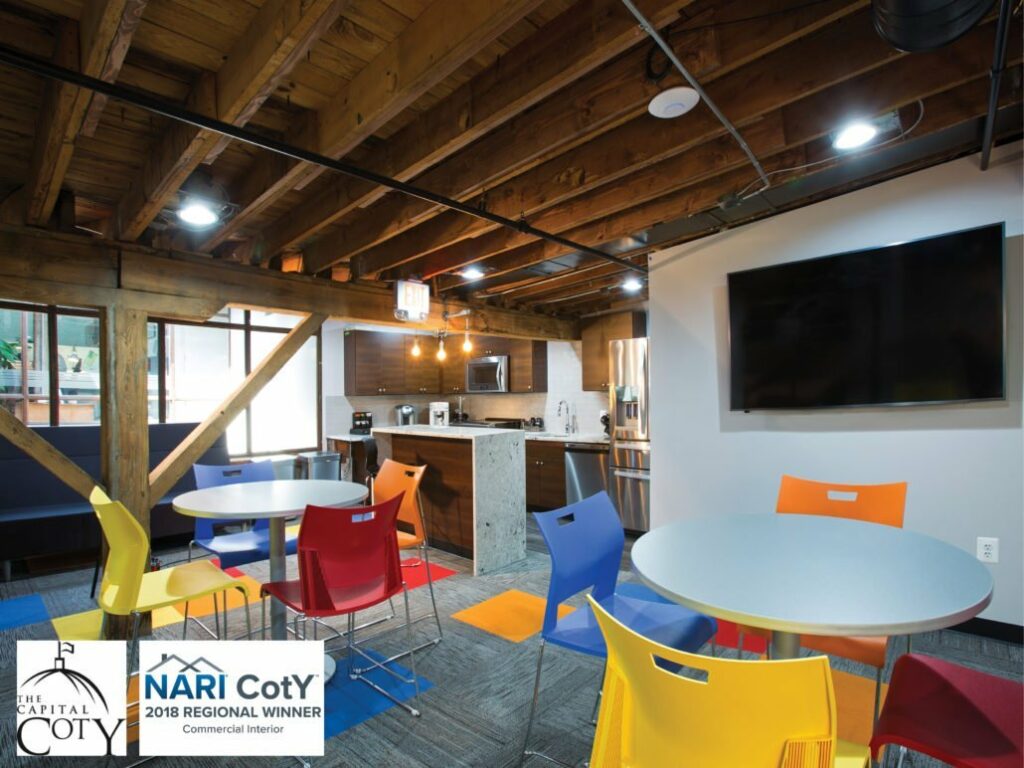 The owners of a historic 1800's factory building located in trendy Old Town Alexandria wanted to take the existing 1800 sq. ft. old office and expand it to 4500 sq. ft. of new office space. They wanted to create a high-end boutique style office in a historical building that was aesthetically pleasing and highly functional with modern design and contemporary selection, but still keep the historical integrity and beauty of the building.
Our design created spaces for individual offices, open cubicles, a reception desk area, a café style break room with full functioning kitchen, small and large private conference offices, and phone booths for private conversations.
Project 3: Capital Grand CotY for Residential Interior $75K-$150K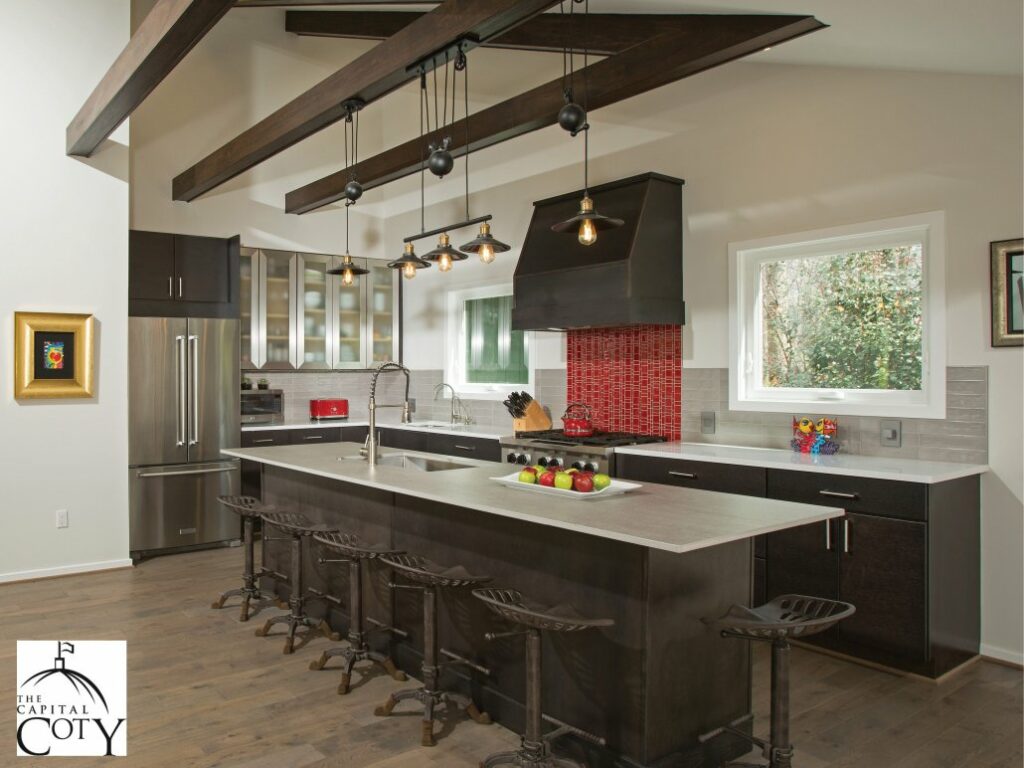 The existing floor plan of this Fairfax contemporary home was divided, inefficient, and lacked good flow
Schroeder Design/Build created an open concept Kitchen, Dining and Great Room, extended and enlarged the kitchen to become a more usable and functional space, with contemporary and unique design elements.
This new, open concept floor plan has improved the overall function, flow, and aesthetic look and feel of the interior home.