Andrew Schroeder, CEO of Fairfax-based Schroeder Design/Build, recognized for outstanding performance by ActionCOACH® Biz X Awards.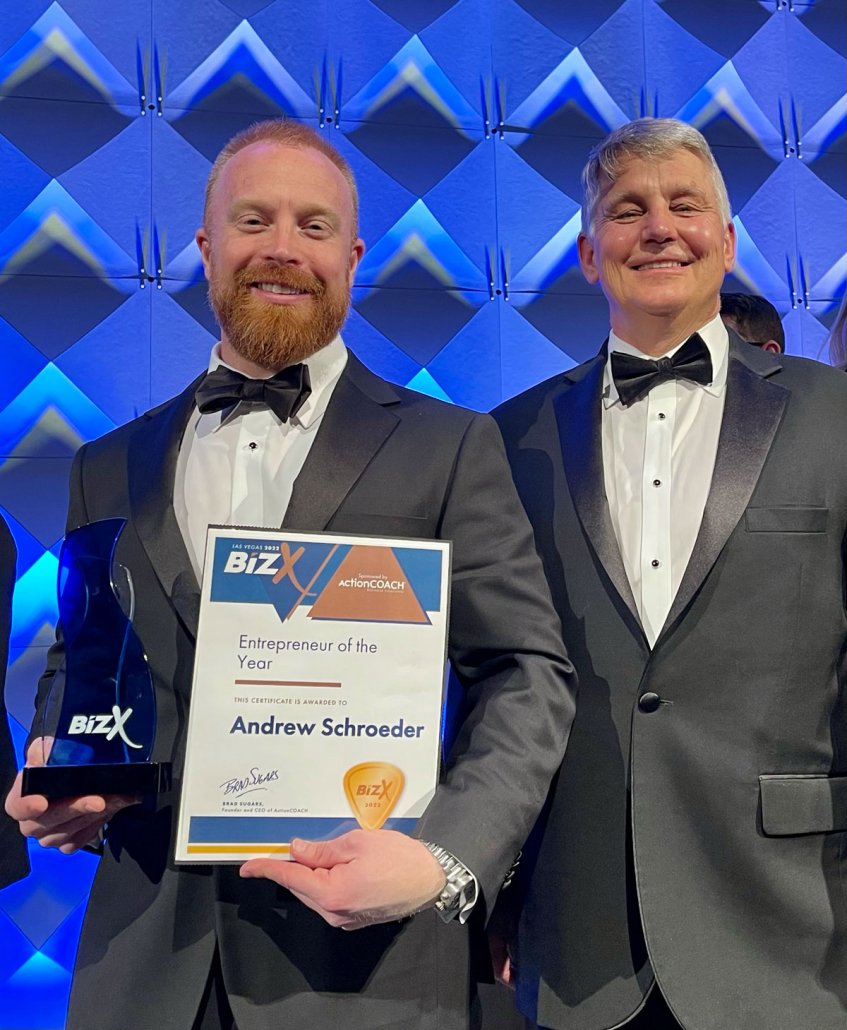 Andrew Schroeder (left) with Coach Pete McDowell (right) from ActionCOACH
Fairfax, VA, April 15, 2022 – Andrew Schroeder, CEO of Schroeder Design/Build, Inc. of Fairfax, VA, was named Entrepreneur of the Year at the Biz X Awards presented by ActionCOACH® on April 3, 2022 at Planet Hollywood in Las Vegas, NV. The award reflects outstanding performance and stands Schroeder amongst the best in business nationwide. This year's Biz X Awards had more than 400 nominees in 30 categories, with more than 150 finalists from throughout North America represented.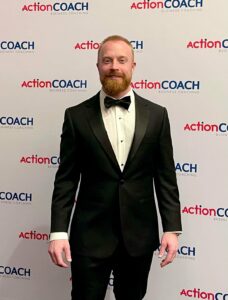 "I am pleased and honored to receive the award for Entrepreneur of the Year, yet I recognize that it is a team effort. I give thanks to my ActionCOACH coach, Peg Buehrle, and my dedicated and hard-working team at Schroeder Design/Build who help me navigate a tough year and grow and flourish both professionally and personally," said Andrew Schroeder. "Our team's continued focus on our proven and heartfelt values is why our business has grown and my leadership has been recognized by the innovators at Biz X."
Andrew Schroeder was the winner of another national honor given by the National Association of the Remodeling Industry (NARI) in 2020: The John Quaregna Award recognizing NARI's young remodeling professionals for their efforts and achievements in the remodeling industry. He is also one of the youngest to ever receive the prestigious Master Certified Remodeler (MCR) designation. Schroeder Design/Build was awarded the Community Service award in 2022 by the Professional Remodeling Organization (PRO).
About Schroeder Design/Build, Inc.
Schroeder Design/Build is a family owned and operated remodeling firm located in Fairfax, Virginia. Since 1986, it has been providing residential and commercial clients throughout Northern Virginia with comprehensive design and construction services for remodeling, tear down and rebuilds, and new home construction. In 2021, Schroeder celebrated its 1000th client and its 35th anniversary. More information can be found on the Schroeder website at SchroederDesignBuild.com.
About Biz X
The Biz X Conference and Awards is an annual event, held since 2011 and powered by ActionCOACH, that attracts business-minded professionals from North America to hear some of the most impactful thought leaders present new ideas and strategies for success. This year's conference featured speakers Donald Miller, Molly Bloom, Ken Schmidt, Dr. Michelle Rozen, Dr. Tony Alessandra, Terri Broussard Williams and Brad Sugars.
"The Biz X Awards recognize excellence and the work, results and growth our coaches and their clients have achieved. As the lifeblood of any local community, we recognize the power and contributions small businesses make every day," said Brad Sugars, CEO and Founder of ActionCOACH.
About ActionCOACH
ActionCOACH is the world's largest business coaching franchise in the world, with coaches in 70 countries. It was established and founded in Brisbane, Australia by Brad Sugars in 1993 when the concept of business coaching was still in its infancy. Since franchising in 1997, ActionCOACH has helped business coaching become mainstream, and the company has nearly 1,000 coaches working weekly with approximately 18,000 businesses. ActionCOACH specializes in coaching small to medium-sized businesses, as well as executives and their teams. Visit actioncoach.com for more information.