Nearly 25% of homeowners are now spending more time in their kitchens than just two years ago. Between the pandemic, home schooling, and working from home, the kitchen is now a vital multi-functional space in your home. It must serve numerous purposes other than preparing and eating food. Using several surveys, we culled out what's most important in your new kitchen in 2021.
Most Important Kitchen Features
The Research Institute for Cooking & Kitchen Intelligence (RICKI) held a recent survey of what homeowners were envisioning for their dream kitchens. The features they found most important included:
• Storage space (49%)
• Walk-in pantry (41%)
• Central island (38%)
• Table space for eating (31%)
• Better lighting (30%)
• Built-in water filtration (21%)
• Enhanced ventilation (20%)
• Germ-resistant surfaces (17%)
• Connection to an outdoor area (15%)
• More than one sink (10%)
Working with a design professional is more important than ever to transform your kitchen into an area that can support these multi-functional needs. Today's kitchens are larger than ever and incorporating smart features like Wi-Fi/Bluetooth capabilities, hidden built-in docking stations, small appliance storage, and virtual assistants. Of course, what's most important in your new kitchen is based on your own needs and desires.
Other Uses for the Kitchen Area
Other favorite activities in the kitchen indicated in the survey included:
• Gathering and socializing with family & friends
• Feeding pets
• Listening to music
• Watching TV/videos
• Paying bills
Biggest Regrets in Kitchen Remodeling
RICKI reported that 51% of homeowners who remodeled their kitchens regretted not spending more to get what they really wanted. Failure to invest in more storage (33% store kitchen items they frequently use in other rooms in the house), higher-quality cabinetry, statement-making countertops, higher-end plumbing fixtures, lighting design, and fixtures were the most-noted items for remorse.
The Latest for Home Chefs
The 2020 Kitchen & Bath Industry Show featured the latest technological trends for home chefs, using the term "Technicureans" for this new generation. Some of the most important desires for a professional-quality home kitchen included:
Sous Vide Cooking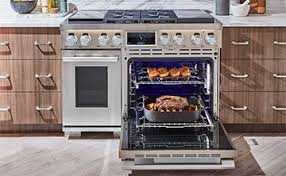 Sous Vide has been the restaurant standards for professional-quality food for many years as it prepares foods to precise temperatures and exact doneness every time. With luxury appliances, home chefs can get their sous vide built right into their cooktops. Induction and gas cooking dual-fuel professional ranges, also popular pro models, can incorporate sous vide cooking as well.
Smart Appliances
Today's high appliances have the capability to calculate exactly what is needed for each task: including water levels, detergent amounts, and humidity and temperature controls. This can save resources and energy. Wi-fi connectivity makes it easy to control, program and monitor your smart appliances.
Smarter Sinks
Making kitchen clean-up easier is important for the home chef, with demand for pull-down or pull-out faucets, voice-commanded faucets, and build-in water filtration systems on the dream list.
Craft Ice
Even ice has gone beyond the basic cube. Craft ice is now the rage, with slow-melting spherical ice, crushed or cubed ice options. In addition, the newest water dispensers offer measuring options to dispense exact amounts into your glass or bottle in 4, 8, 16 or 32 ounce pours.
Contact Schroeder Design/Build for Northern Virginia Remodeling
What's important in your new kitchen? If you'd like to talk about remodeling, please contact us. As a true design/build firm, we have a full staff of architects and designers who can help make your dream kitchen your reality. Check out our Kitchen Portfolio for ideas!
Contact Schroeder Design/Build at 703-449-1700 or info@SchroederDesignBuild.com.