When thinking about remodeling with a room addition, many families want to create a room that helps bring the outdoors indoors—like a sunroom vs. a screened-in porch. They love the expansive views offered by a wall of windows, or the warm fresh air on a summer evening and are looking for additional living space in their home. Here's how to choose the right room for your family's needs.
Screened-in Porches
A screened-in porch built under a roof with mesh screen walls added to the home's structure allows fresh air to circulate while preventing insects and debris from entering the room. Normally, it is built as an addition to an existing home to act as a transitional room between the indoors and outdoors, although it can be created as a free-standing structure. The structure is not insulated, therefore, it is most comfortable in the warmer months. Most families choose to add their screened-in porch to the back or side of their home. We have also added them to the front of the house as well.
Screen Types
The screening for a screened-in porch can come in a variety of materials:
Fiberglass mesh screens are the most popular choice. The cost is relatively low and it offers good visibility. The material comes in rolls for easy installation, doesn't crease or dent like metal screening, and is available in a variety of colors like black, silver, gray and charcoal to match your home's exterior. It is one of the most easily repaired types of screening material. Its downside is that it can be susceptible to stretching and tears more easily than metal.
Aluminum screens are the budget-conscious choice for your screened-in porch. They are lightweight, rigid and strong, and easily cut to size. Aluminum screening may be slightly more difficult to install than fiberglass screens and is susceptible to rust if not coated. It is available in colors like gray, silver, charcoal and black.
Copper screens are a higher-end option, but require maintenance to maintain their color and sheen.
Advantages of a Screened-in Porch
Your screened-in porch enables your family to enjoy the outdoors without being exposed to direct sunlight or flying insects, and offers a low-maintenance alternate to a porch. Decorate your screened-in porch with plants, a ceiling fan and outdoor furniture. Add electrical outlets, plumbing for a wet bar or gardening sink, or built-in seating for even more practical uses. In the "old days," people would even sleep overnight in their screened-in porch when the weather was hot—before the days of air conditioning. It's a nice alternative if the power goes out! In Northern Virginia, you should be able to enjoy your screened-in porch from March to October. An outdoor fireplace or heater can extend your use.
COST: Least expensive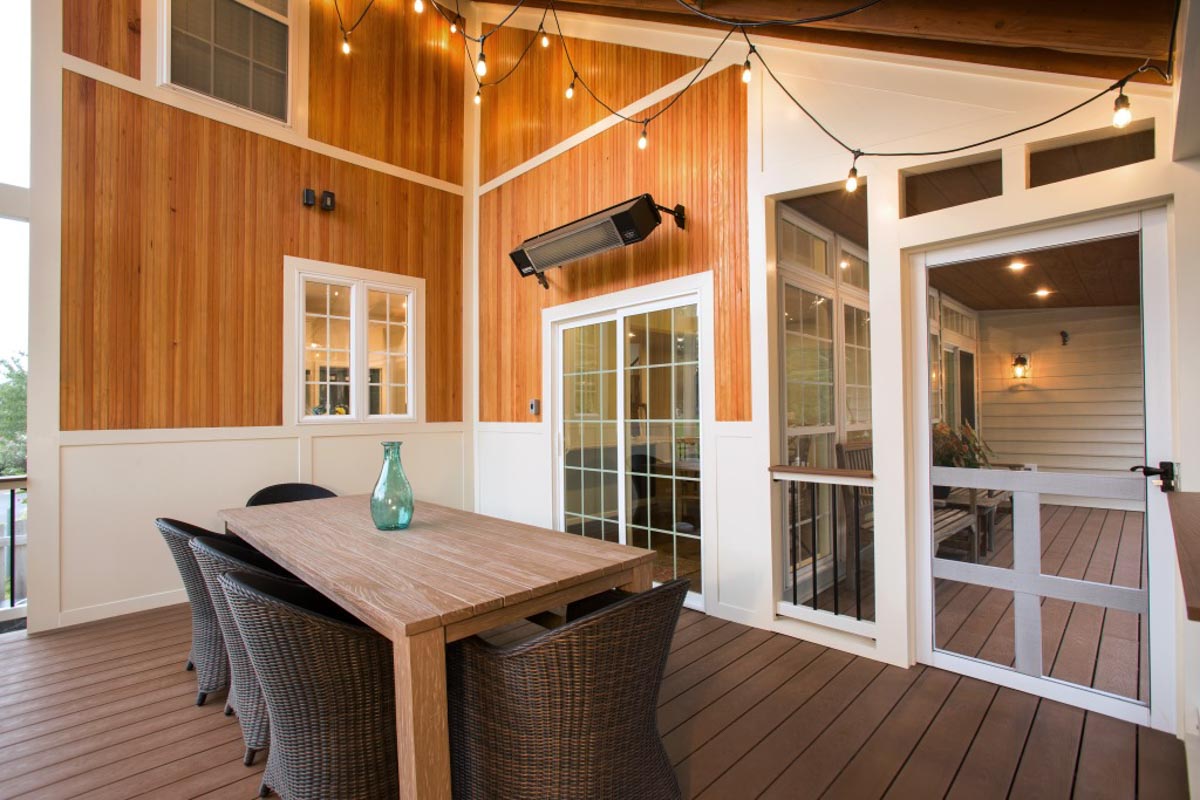 Sunrooms
Here in Northern Virginia, cold winters are the norm so year-round use of a screened-in porch vs. a sunroom would be limited. That's why sunrooms are popular as a versatile room for relaxing or entertaining. Two options for a sunroom include a three-season or a four-season version.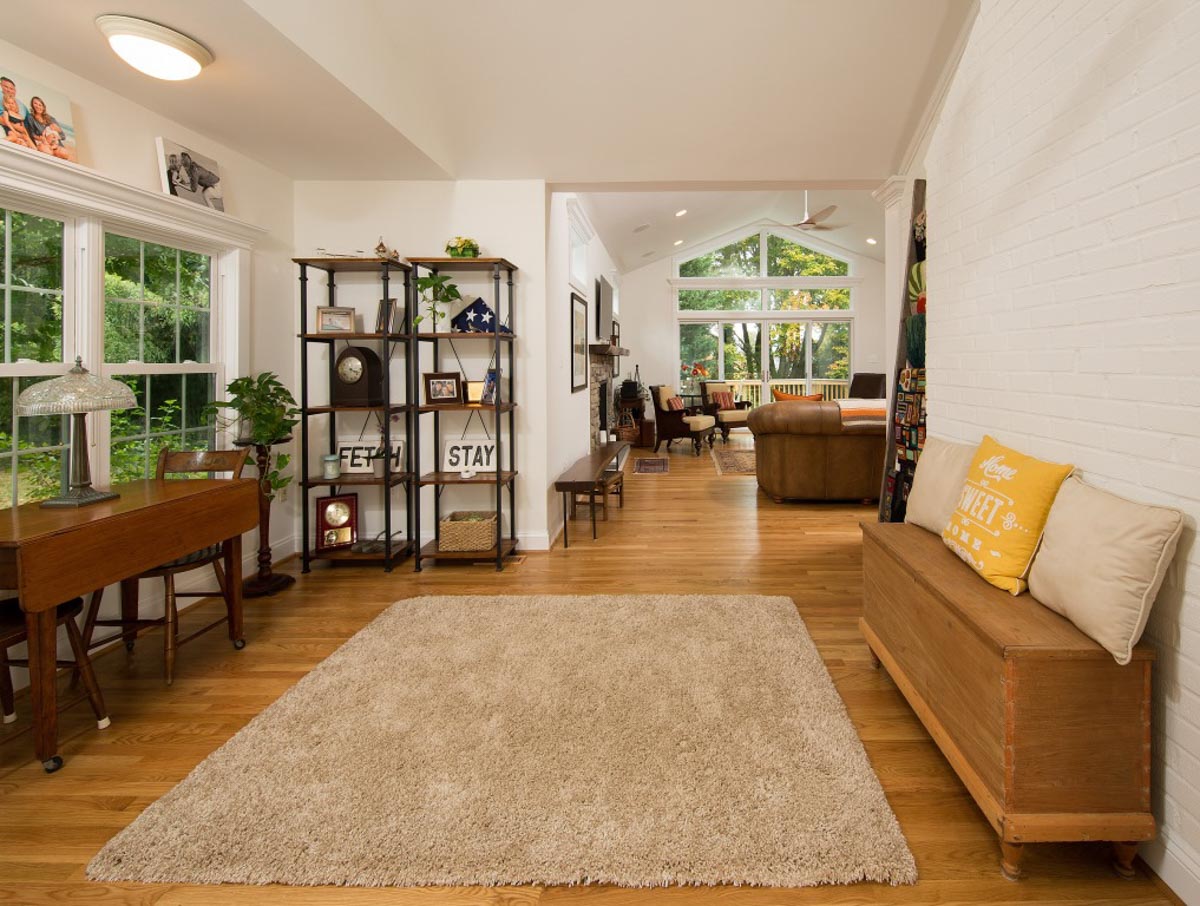 Three-Season Sunrooms
A three-season sunroom is built with four structural walls of brick or siding, windows and doors, and an HVAC system. As the room is not intended for winter use, it is usually not insulated, and the glass in the windows and doors offers low energy efficiency. Even though the sunroom may have an HVAC system, it is not effective on colder days due to the lack of insulation. Because of all the windows, the room may trap heat and it may not be practical on the hottest of summer days to cool the three-season sunroom.
COST: Moderate
Four-Season Sunrooms
If you want to use your sunroom year round, it must be built as any other room in your home, with four structural walls, insulation, an HVAC system and energy-efficient doors and windows with tempered, UV-protected glass. This enables you to use the room in comfort no matter what the outside temperature may be. This option also adds the most value to your home.
COST: Moderate to expensive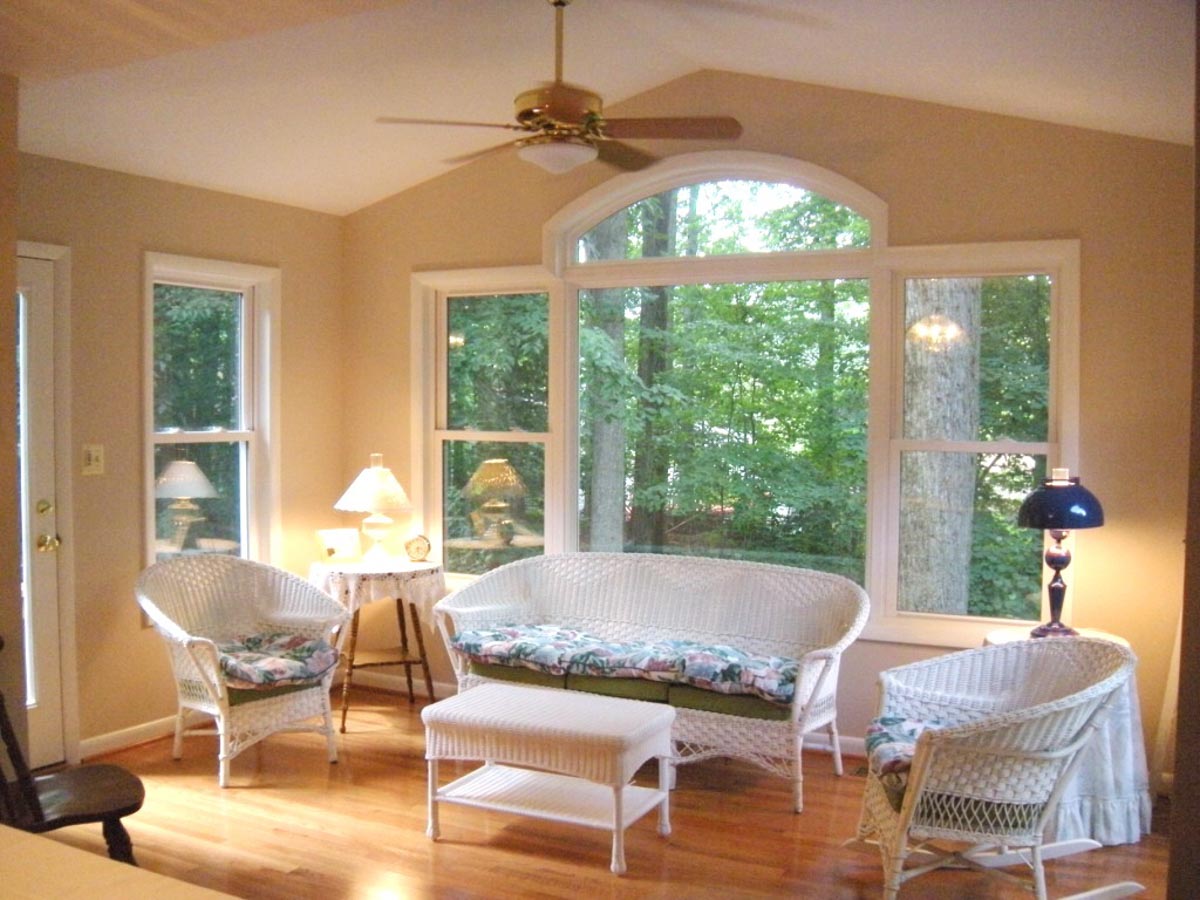 Advantages of a Sunroom
A sunroom vs. a screened-in porch gives a homeowner all the advantages of a screened-in porch by opening the windows or doors on warmer days to allow fresh air into the room while keeping insects out, yet can also keep the family warm and cozy in cooler months with energy-efficient windows and insulation.
Screens can be built into the windows, added onto windows, or interchangeable with windows. Sliding glass doors can also be added that can open one door's width or across the entire wall of your sunroom, like a glass wall system.
Your sunroom will be built to blend in with the existing architecture of your home to create a seamless look and flow from both inside and outside the home.
Personalized Sunroom Ideas
Nowadays, homeowners are designing their sunrooms for special uses as well. How about creating a:
Spa Room, with a jetted tub or indoor pool and heated flooring
Library, with built-in bookcases and sunny reading nooks
Solarium or Greenhouse, with plants and a gardening theme
Indoor Porch, with a swing, hammock and dining area
Cozy Living Room, with overstuffed chairs and a fireplace
Spectacular Dining Room, with architectural features and a statement chandelier
Home Office, with a relaxing view
Playroom, a place just for the kids
Related: 21 Gorgeous Sunrooms for Your Entire Family to Enjoy
A Sunroom vs. a Screened-In Porch
When deciding whether a sunroom vs. a screened-in porch is right for your family, take into consideration the layout of your home and property and how you will want to use your additional room, and then talk to remodeling professional like Schroeder Design/Build. We'll be glad to go over the numerous options available for adding space to your home and walk you through the entire process, from design through construction.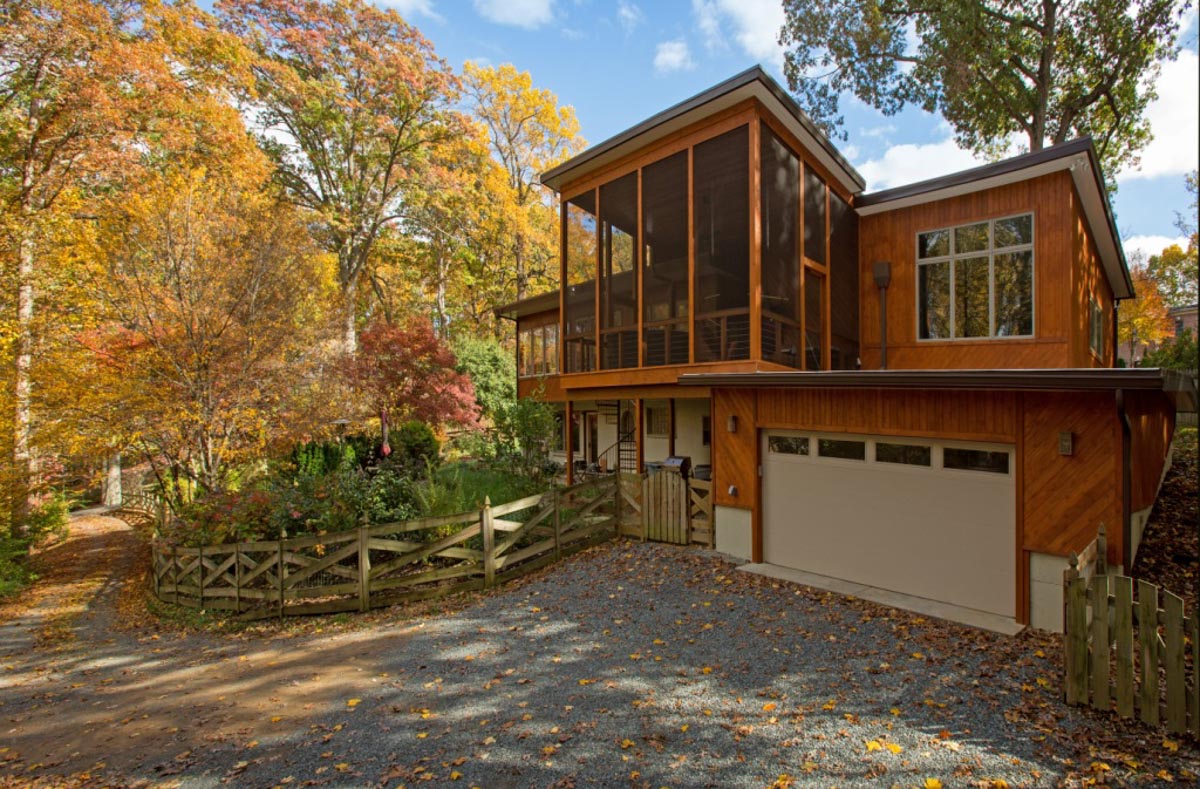 Contact Schroeder Design/Build
Since 1986, Schroeder Design/Build has been serving homeowners throughout Northern Virginia with additions, kitchen and bathroom remodeling and whole-house renovations. Look through our Portfolio for ideas on how to add a sunroom or a screened-in porch to your home.
To discuss adding a sunroom vs. a screened-in porch, or any addition to your home, contact Schroeder Design/Build at 703-449-1700.