Incorporating smart technology into your home has been a major area of growth for the remodeling industry over the past few years. And homeowners are excited about the possibilities for their homes. With products ranging from temperature controls to air filtration systems, smart homes are the future.
The demand for smart home technology grew during the pandemic and is expected to increase by up to 24.4%, or to a more than $317 billion industry by 2026, according to ABI Research.
They define six key concepts in smart homes:
The Sentient Home – The smart home automatically adjusts to changes in real time, with options from individual preferences to weather
The Cooperative Home – Smart home technology is embedded into a network of homes within the same locality for manage, control and share resources
The New Lifestyle Home – Supports simple and flexible changes in the use of spaces to adapt to the variety of activities they are used for
The Home as a Business – Supports revenue-generating services
The Low Impact Home – Pushes towards zero environmental impact through automated controls over types, generation, delivery, consumption and disposal of goods/services
The Marketplace Home – Smart home management providers look for ways to engage with consumers
Smart Home Technology for Wellness
Since the pandemic, Universal Design has increased in popularity. Families were forced to look deeply at their living situations and wanted to make changes to suit their changes in lifestyles and wellness routines both now and into the future. Some people moved younger and older family members into their homes and created multi-generational living arrangements. Others looked at the long-term benefits of staying in their homes and wanted Aging in Place technology for both safety and wellness.
Smart technology addresses wellness with:
Products that kill airborne viruses and germs and improve indoor air quality. This antimicrobial functionality is added to home HVAC systems.
Smart thermostats to control temperature and humidity levels
Water filtration systems
Touchless faucets and automatic soap dispensers
Touchless lighting
UV-Spectrum sanitation
Bidet toilets to allow personal sanitation without having to use the bathtub
Smart Home Technology for Safety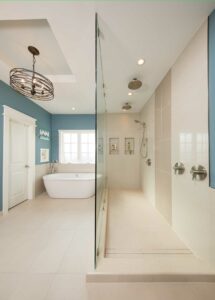 Today's smart home technology involves a wireless network that controls many of the features in your home. It can be controlled either individually or universally via a smartphone app or tablet.
Kitchen fires are one of the largest concerns for safety, especially when a burner is left on. Smart technology can alert the homeowner and allow remote access to turn it off. Interactive induction cooktops paired with smart ventilation hoods can further enhance safety and enable faster cooking speeds. It can also alert homeowners to a water leak from the refrigerator, dishwasher, washing machine, or water heater and enable remote shut-off of the water source.
Safety in the bathroom can include water temperature controls, voice-activated lighting and faucet operation, automatic toilet seat raise/lower functionality, and touchless faucets.
For safety, the demand includes:
Smart door locks that record and send alerts when someone enters or leaves, or can lock or unlock via an app
Access code locks
Video doorbells
Internal and external security cameras
Alarm systems
Lighting controls, and systems that "learn" your routines and automatically turn lights on and off in conjunction with room occupation
Power generators
Hot water temperature controls to avoid scalding injuries
Voice-activated technology
Smart Home Technology for Energy Savings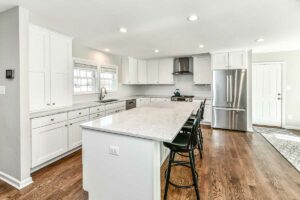 Using programmed or pre-preprogrammed settings for energy and water usage can create significant savings over the course of a year. It can also increase awareness to energy and water consumption and usage.
In the kitchen, refrigerators are offering separate cooling areas and even inventory tracking through the use of barcodes and sensors to reduce food waste. And embedded cameras that let you actually see what's in your refrigerator via an app. Food composters and discarded water recycle unused resources into new uses.
Have you heard of Miele's Invisible Kitchen Concept? Imagine a countertop that weighs your ingredients via an embedded scale or a projector that displays recipes virtually onto your countertop. A refrigerator that communicates with your stove and other appliances to create meal plans and cooking options. A virtual assistant that creates recipes. Or an entire line of handle-less, built-in appliances. This futuristic kitchen design concept is networked and convenient to provide the ultimate cooking experience. "[This] brings a new sense of creativity to the game. Cooking once again becomes exciting and fun," said Axel Kniehl, executive director of the Miele Group.
You can even set up command systems. For example, if you're going to bed, you can announce it to your voice-controlled device that will then shut off lights, televisions and other entertainment items, lock doors, turn on cameras, and adjust the thermostat.
Other items for energy savings include:
Low-voltage LED lighting
Power strips and charging stations for multiple charging ports
Virtual assistants
Smart Home Discounts
Some insurance companies encourage smart home technology by offering smart home discounts of between 5% and 20% on your premium due to the minimized damage risk to the home. Others may offer free or discounted systems, activation and installation fees or can stack more than one discount.
Common items that can make the home safer and help to support a claim, should one be needed, include:
Security and alarm systems
Smart smoke detectors
Interior sprinkler systems
Gas and water shutoff systems
Video recording
Contact Schroeder Design/Build
At Schroeder Design/Build, our focus is creating our clients' dream homes. And that can mean adding in the dream features offered by smart home technology. Smart homes truly are the future.
The best time to add this technology into a home is during construction—whether you're remodeling or building a new home in Northern Virginia. This way the wireless connectivity can be added into the design and incorporated into the structure without disruption.
You may also want to design your home around the smart home technology you want to add. It's much easier to do it now while you're considering construction than to try to retrofit it into your home later.
Schroeder Design/Build offers both design and construction under one roof for your convenience. Use our team of experienced architects and inspiring designers to help you bring your concepts to life. And check out our Portfolio and our social media links for inspiration!
Contact Schroeder Design/Build today.