At Schroeder Design Build, we believe that safety is paramount in every remodeling project. With our teams (from design to construction to service support), all united under one roof and devoted to your specific needs, we have the unique ability to deliver unmatched safety throughout the entire process.
We prioritize the well-being of our clients, team members, and the environment throughout the entire remodeling process. Here are a few safe practices we encourage for safe and sustainable remodeling.
Schroeder Safety Practices
Safety Training
Schroeder Design Build Project Managers and Site Supervisors have been trained to ensure compliance with all safety regulations, addressing any safety concerns or incidents that may arise. They do so by maintaining a clean and safe work site at all times. In the event they do spot an unsafe condition, they immediately stop work and remediate any issue before work resumes.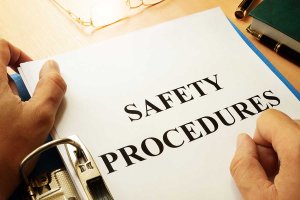 Schroeder considers ongoing and frequent safety training vital to ensure all our employees remain compliant. Regular safety meetings are therefore held that regularly refresh their knowledge about safety, and consist of:
Reviews of common safety practices and procedures
Viewing of safety training videos
Discussions on best practices for safety
Random field audits to address any potential violations / unsafe practices
Safety Certifications
Many Schroeder Project Managers also have formal certifications, including, Lead Renovator Certifications and CPR/AED & First Aid.
Construction Site Safety
Schroeder ensures your construction site is secure from unauthorized access and potential hazards by following all local, state and federal protocols to ensure each of our job sites is safe and clean.
Demolition Safety
The demolition of building materials may be necessary during a remodeling process. To ensure that no lead is present in these materials, Schroeder routinely performs the EPA certified Lead-Test on homes built prior to 1978. If lead is actually found to be present, Schroeder will then contract with a Certified Lead Remediation contractor to assure that the demolition is performed to local, state, and federal EPA standards.
Dust Safety
Dust from any remodeling project is an inevitability, but damage or injury from dust should never be. Schroeder minimizes dust exposure at your building site, and ensures that areas in your home not directly involved in the project are protected. Schroeder uses dust containment barriers, along with a two-stage "Air-Scrubber" that uses a primary filtration first stage, along with an even more important 2nd stage HEPA filtration cartridge.
Disposal Safety
Schroeder disposes all construction debris and regulated waste in an environmentally responsible and safe manner, in accordance with local, state, and federal government requirements.
A Job Site Case Study of St. Andrew Lutheran Church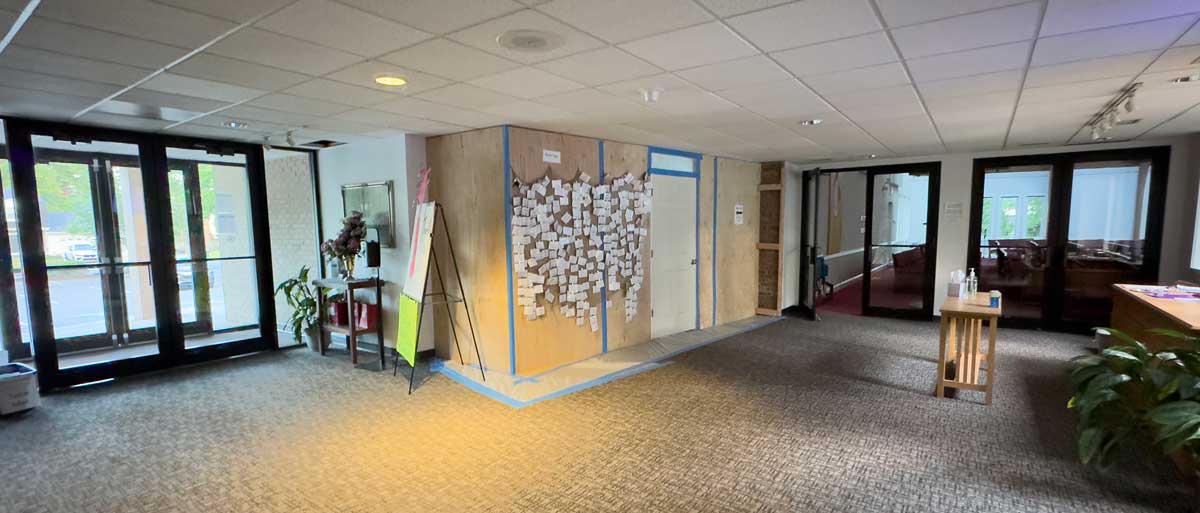 The St. Andrew Lutheran Church in Centreville, VA had several bathrooms that were not ADA-compliant. The church approached Schroeder Design Build seeking help with upgrading these rooms to address important accessibility requirements.
Accessibility needs were included from the beginning in the project's scope of work, and were seamlessly incorporated into the design plan. To start with, we transformed two bathroom stalls into a single stall, thoughtfully designed to accommodate the necessary turning radius for wheelchair accessibility.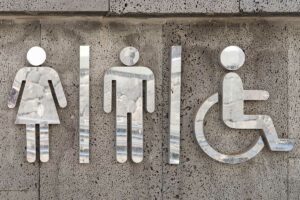 Other design safety features included:
Hands-off lighting control with motion sensors
Hands-off bathroom fans with switch timers
Grab bars placed at new mounting heights
Mirrors placed at new mounting heights
Surface mounted

seat covers
toilet tissue dispensers
baby changing station

Double robe hook with bumper
New compliant toilets
When it came to job site safety, importance was placed on protecting the daycare children during construction. We not only used standard dust containment barriers and air filtration practices, but we also built a temporary safety wall in front of the construction area. This had a locked door to ensure children could not enter the construction area. The safety wall also acted as a sound barrier to protect occupants from excessive noise exposure during construction.
Safety First at Schroeder Design Build
As a family owned and operated design-build remodeling firm, we take personal care of every detail. With a well-established reputation for delivering quality craftsmanship and a legacy of over a thousand satisfied clients, we recognize that ensuring a safe and compliant construction site is paramount to our exceptional work.
With our unwavering commitment to safety training, strict adherence to protocols, and implementation of best practices, Schroeder guarantees the utmost protection for you and your family throughout the entire remodeling process.