Bringing friends and family together for the holiday is like no other time of the year. Being able to entertain crowds of various sizes is wonderful, but only if you and your guests are comfortable. Identifying challenges with your living spaces, especially your bathroom(s), can suggest remodeling opportunities to make the next holiday season even more enjoyable. Did you notice that your bathrooms are small and cramped? Did senior family members slip or struggle with getting in and out of the tub or shower? Was there a line forming outside the bathroom at inopportune times during the day? Now that the holidays are over, you can beat those post-holiday bathroom blues with these five ways a bathroom remodel can help.
Expand your Bathroom Footprint or Rework the Layout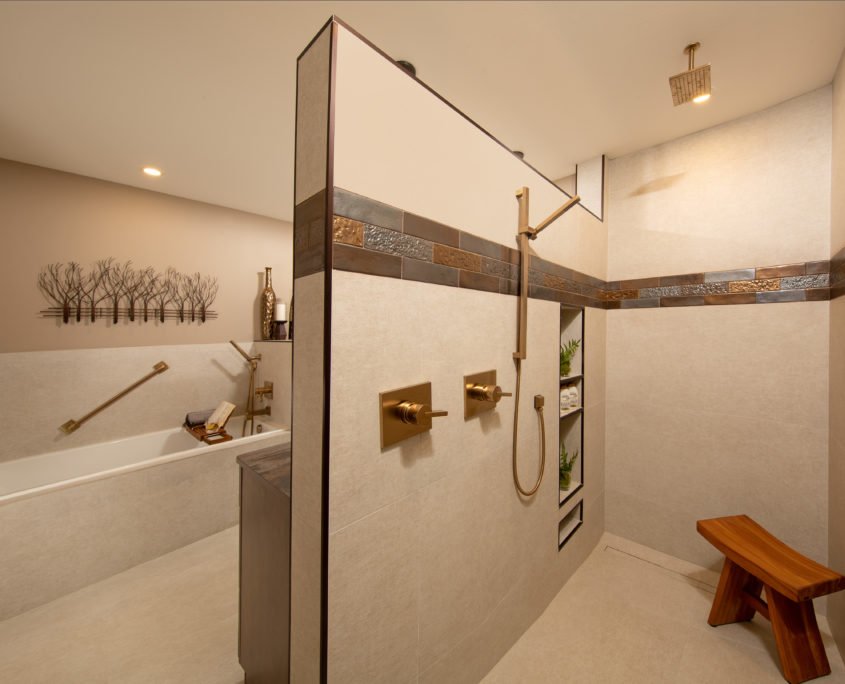 Tiny bathrooms that can't accommodate two people getting ready for a busy work day are frustrating. It may be time to think about expanding the space or changing the layout to make it more functional.
Expand
To make your bathroom larger within your home's existing footprint, you need to steal space from another area, such as a closet or nearby room.
Look at an adjoining bedroom. Is it a guest room with a large closet? Then perhaps you don't need all that storage for a room that's not often used. Create a smaller closet and use the extra space to expand your bathroom. A large closet can even be converted into a smaller-sized powder room! If the closet isn't adjacent to the bathroom you'd like to enlarge, consider taking space from the actual spare bedroom itself. Moving the wall in just two feet can give you 50% more room in your bathroom expansion. Or heck, take the entire extra bedroom and create a spa-like retreat and walk-in closet!
Get creative with unused space, like under the stairs, to create a powder room. Forgo the vanity for a wall-mounted sink and toilet. Smaller fixtures can fit comfortably into a smaller space and provide that extra bathroom you so desperately need. 
Reconfigure
Changing the layout of your existing bathroom can increase its functionality. Some ideas include changing the swing-in door to a pocket door or barn door, or have the door open into the hallway or bedroom instead of inward. Remove large vanities and cabinets and replace them with slimmed-down or wall-mounted versions for storage. Take out the tub and install a shower that takes up less floor space.
Add a Bathroom with an Addition
Post-holiday relief comes from not having to share your bathroom with overnight guests! Now is the time to think about adding a second—or third—bathroom with an addition.
Building an addition or bumping-out the walls of your existing bathroom can really give you more room or allow you to create extra bathrooms. Just a couple of feet in a bump-out gives you room for a large shower or soaking tub, and can increase your bathroom's size by 25%.
With an addition, you have the luxury of designing the bathroom you always envisioned. Space is not an issue! Your only restrictions come from your lot size and setback restrictions (and perhaps your budget.) As an extra bonus, an addition increases your home's value!
Maximize Safety with Universal Design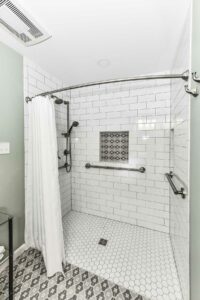 Let's face it, we're all getting older, and having safety features in your bathrooms is not a bad idea—at any age. Now that your guests are gone, think about adding Universal Design features into your bathroom to increase accessibility and reduce the possibility of slip-and-fall accidents.
Increase the space to allow for freedom of movement and walker and wheelchair access
Install storage options at easily-accessible heights
Put in a zero-threshold shower with digital controls, hand-held showerheads, grab rails and benches
Consider a walk-in tub
Use lever handles for doors and water controls
Invest in non-slip flooring
Enhance lighting
Install grab bars
Save Money with Energy-Saving Bathroom Upgrades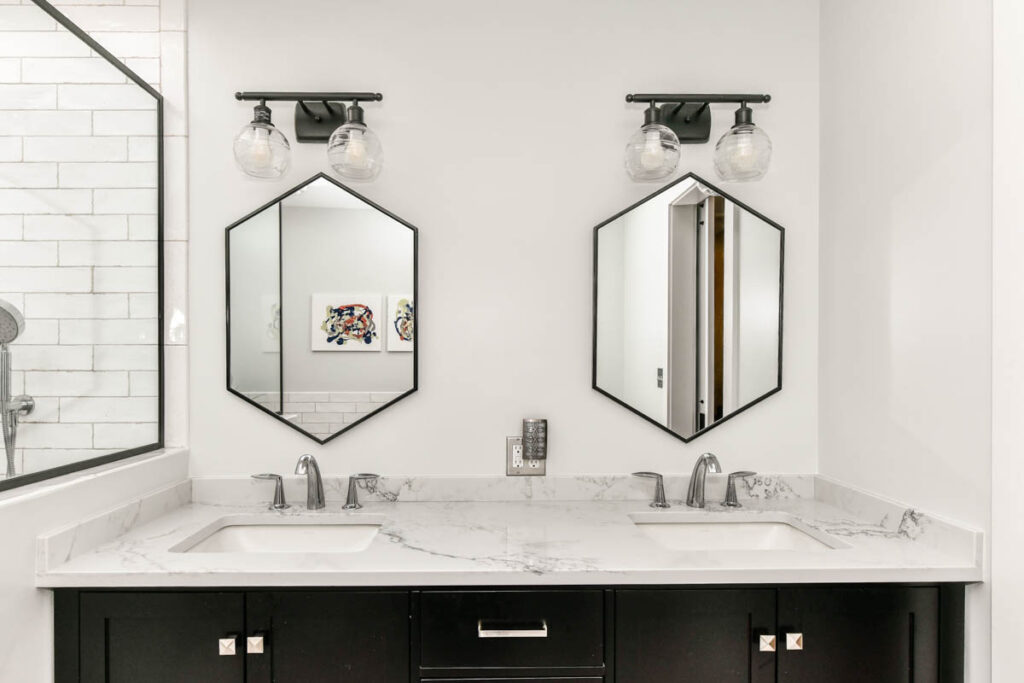 Having guests in your home may have brought an unwanted gift—higher utility bills! To save money and energy, remodel now to incorporate energy-saving features and you'll have more money for presents next holiday season!
Choose Energy Star® fixtures
Introduce LED lighting and benefit from 75% greater energy efficiency
Use motion sensors and timers to turn lights on and off automatically
Install low-flow showerheads and toilets for water conservation and save 20-60%
Put in an Energy Star-certified bathroom ventilation fan and use up to 70% less energy
Consider a Delta WaterSense® faucet to reduce water usage by 20%
Install radiant floor heating
Switch to a tankless water heater, since water heaters are the 2nd-highest source of energy usage in a home
Upgrade and Reap the Benefits in More Ways than One
Did you know that the government even has funds available for green home improvement tax credits and rebates? Through the Inflation Reduction Act, benefits for homeowners come from solar panels, battery storage installation, geothermal heating, heat pumps, and weatherization items like energy-efficient doors and windows.
Remodel Your Bathroom with Luxury in Mind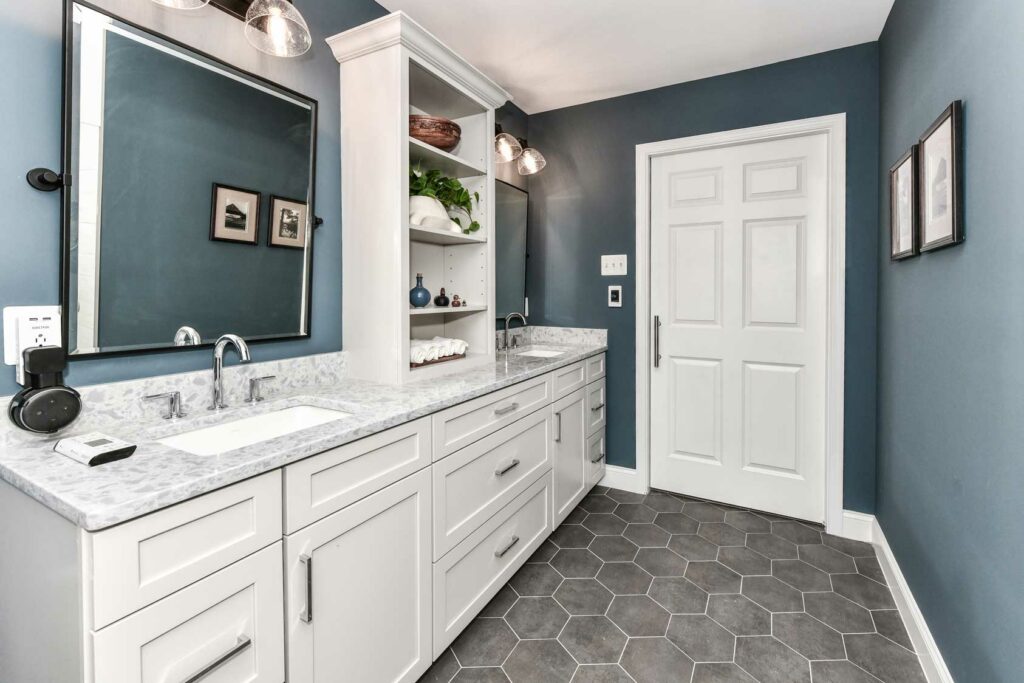 Did you feel embarrassed by your outdated bathroom tile and fixtures while guests were in the house? Make this year the year you design that luxury bathroom you've only dreamed about and next holiday season you'll be proud to share it with family and friends! Here are some luxury items that will provide lots of pleasure yet won't necessarily break the bank.
Fully-customized cabinetry: take out the stock cabinets and design storage the way you want it with custom cabinets
Custom inserts and pullouts: designate specific usage or convenience features within cabinetry, like a pull-out for a hair drying station or curling iron that includes an electrical outlet
Floor-to-ceiling tile or slab wall coverings to create drama as well as add beautiful aesthetics
Wall-to-wall mirror
Makeup vanity and seating area
Custom lighting for grooming
Soaking tub
Curbless or double shower with multiple showerheads
Patterned glass shower doors
Northern Virginia Bathroom Remodeling by Schroeder Design Build
Years ago, bathrooms weren't an important room in a home. Many homes even had only one bathroom for the entire family to use. Nowadays, bathrooms have taken on more importance, both for functionality and aesthetics. It's not uncommon for homeowners to want to create a beautiful and spa-like primary bathroom, and to incorporate double sinks and larger tubs and showers in their secondary baths. Luckily, there's even more than these five ways a bathroom remodel can help. A great remodeling company like Schroeder Design Build can create the bathroom of your dreams for you.
Since 1986, the family owned and operated Schroeder Design Build remodeled homes for more than 1,000 happy customers throughout Northern Virginia. Let us design and install the perfect bathroom or bathrooms for your home! Contact us today to schedule your complimentary design consultation at 703-449-1700.