Many couples today are making the decision to remodel their homes to allow their aging parents to move in with them. This generous gesture will enable your loved ones to maintain a sense of independence and have the security of being close by when they need additional care or assistance. If you are finding yourself in a similar situation, one of the first things on your mind is likely how to adapt your home to accommodate them safely and comfortably. There are several ways to remodel your home for your aging parents and fortunately, just because a home is senior-friendly does not mean it has to sacrifice style or luxury!
Where should we start?
The best-case scenario for in-law living is to create a space that is separate and independent, yet still connected to or a quick walk to the main home. This ensures that your parents will feel they have a space of their own and that you still maintain a bit of privacy. Basements, carports, and garages are prime areas of the home that can work very well for creating an in-law suite.
Basement In-law Conversions
Basements with a walkout entrance are ideal since this can also work as a separate and private entry. If your basement is not a walkout, that's okay, particularly if your parents can still negotiate stairs. If they cannot, elevators or stairs with a chair seat are options you can consider.
Garage or Carport In-law Conversions
Whether connected to your home or not, garages and carports offer plenty of space to create a living area for your aging parents. Again, you have the opportunity to incorporate a separate entry, if that is important, and in cases where the garage or carport is stand-alone, it can feel like a private guesthouse.
Single Level In-law Additions or Pop-up additions
There are plenty of cases where there isn't any existing space to convert and that's when building an addition is a good solution. Perhaps you can build a single story addition that connects to the main living room or kitchen. Another option is a pop-up addition that can be placed over a garage. In either case, you can make the suites as self-sufficient and private as you like based on the entry point connection and spaces you choose to include in the floor plan.
What should I include in my in-law addition or conversion?
Now that we've covered where you can create your in-law suite, we want to talk about what type of spaces and features to include within it. One thing is certain, through all of your planning, make sure to consider your parents existing and future needs. Remember that things may change as they get older, which could include the need for walkers, wheelchairs, or a caregiver to assist in daily activities.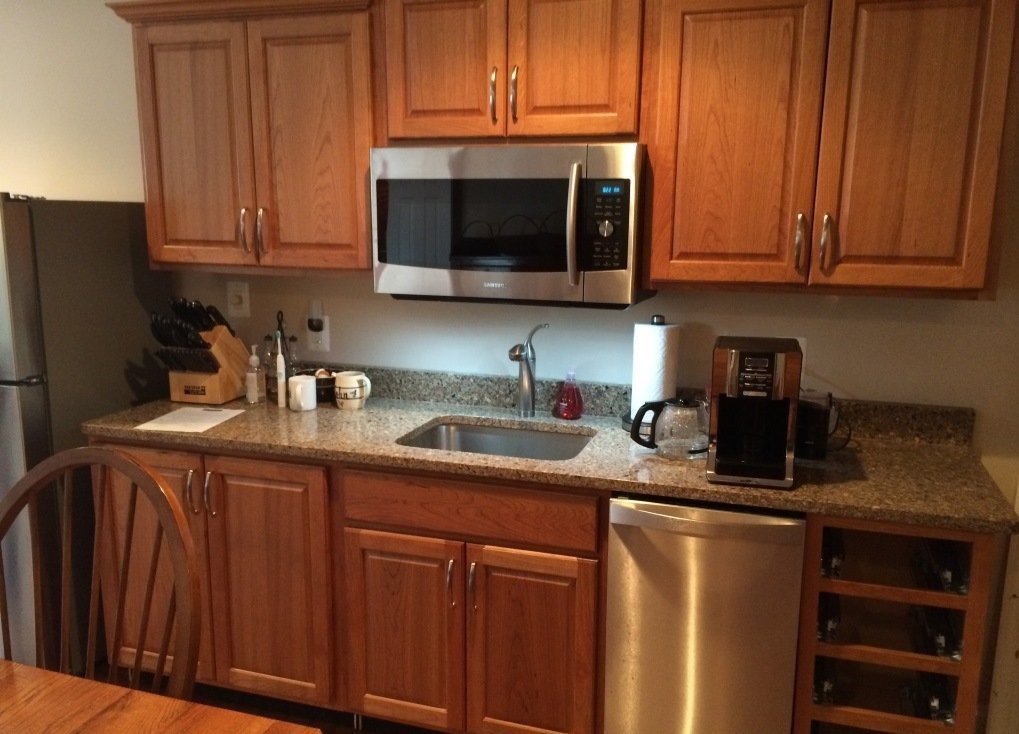 The most self-sufficient in-law addition or conversion would include a bedroom, living space, bathroom, and kitchenette or full kitchen. Instead of single doorways, French doors or wide pocket doors are a better choice. Low pile carpet is an ideal as it provides a non-slippery surface. In bathrooms, no threshold showers, handheld showerheads, shower benches, and grab bars are all helpful. In the kitchen, be sure to incorporate plenty of light sources to make food prep easier. We also suggest selecting electric ranges instead of gas for safety. Throughout the suite, bring in as much natural light as possible by adding windows, skylights or sliding doors. Use levers instead of knobs on doors; consider raising outlets and lowering light switches to waist height. Remember, this space can include all the same beautiful finishes and features that the rest of your home does like granite counters, beautiful vanities, elegant faucets and drawer pulls, custom built-ins, and more.
---
If you are considering moving a parent into your home, please don't hesitate to call us to discuss your situation and your home. We've helped other families make a smooth transition through in-law additions or conversions and we'd love to be able to help you too!