The Cost of a Kitchen Remodel in Northern Virginia
As one of the most popular remodeling projects for homeowners, a kitchen remodel helps to enhance functionality, boost your property value, and breathe new life into the heart of your home. However, understanding the cost considerations is essential for a successful and budget-friendly renovation. In this post, we'll explore the key factors that can influence the cost of a kitchen remodel in Northern Virginia so you can make informed decisions, and plan and built your project with confidence.
What Does a Typical Kitchen Remodel Cost in Northern Virginia?
According to Remodeling's 2023 Cost vs. Value Report for the Washington DC region, a major kitchen remodel can cost from around $77,000 to more than $157,000. A minor remodel can run much less, starting at about $27,000.
Two Types of Kitchen Remodels
When it comes to kitchen remodeling, there are generally two categories: Mid-Range and Upscale/High End. Understanding the key features of each can help you determine which is right for your budget and desired outcome.
Mid-Range Kitchen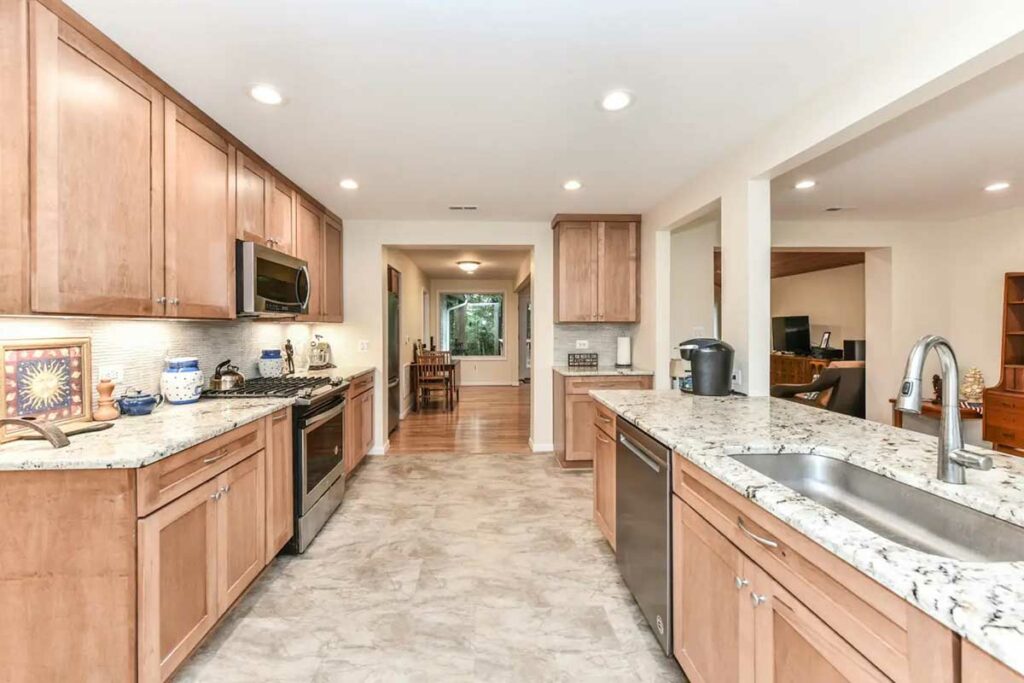 A mid-range kitchen focuses on creating a functional and aesthetically-pleasing space without breaking the bank. It involves updating key elements while keeping costs in check. Generally, you replace outdated appliances with more energy-efficient models, update cabinets and countertops with durable and stylish materials, and refresh flooring. Other things you may want to update may include new lighting fixtures, updated plumbing fixtures, and a fresh coat of paint.
Upscale Kitchen
An upscale, or high-end kitchen remodel aims to create a luxurious and high-quality space that exudes sophistication and elegance. This type involves top-of-the-line materials and high-end appliances to create a truly luxurious cooking and dining experience. Options can include custom cabinetry with intricate details and high-quality finishes, luxurious countertop materials like granite or quartz, and premium flooring options such as hardwood or natural stone. Appliances, including the refrigerator, stove and ovens are often professional-grade. Additionally, you might incorporate luxury features like a kitchen island with a built-in wine fridge or statement lighting.
Factors that Affect Kitchen Costs
To provide you with the options you want at the budget you've determined, you'll work closely with your designer to set priorities and costs. Some of the factors that come into play when determining the cost of a kitchen remodel can include:
Location
The cost of materials and labor can vary from one area to another. For example, remodeling costs in Northern Virginia may be higher compared to a rural location due to factors such as higher demand and cost of living.
Size
Your kitchen's size directly affects the cost of a remodel. A larger kitchen requires more materials and longer labor hours, resulting in higher costs. It's important to factor in the square footage of your kitchen when planning your remodel.
Existing Floor Plan
Keeping your current layout can help reduce costs, as it won't require significant changes to plumbing or electrical systems. However, if you're considering a complete reconfiguration of your floor plan that includes significant changes to your plumbing lines or electrical outlets, the cost will likely rise.
Scale
Are you considering a minor facelift with cosmetic updates, or are you planning a full-scale renovation involving structural changes? Structural changes, such as removing walls or adding windows, can require permits, longer hours and more professional expertise, leading to higher costs.
Appliances
When it comes to appliances, the price range is vast. High-end, professional appliances come with a higher price tag, but there are more budget-friendly options as well. Consider your needs, preferences and budget when selecting appliances.
Cabinetry
Cabinetry is a significant component of any kitchen remodel. Your choices can range from more expensive custom-made cabinets to stock or semi-custom options. Additionally, your choice of materials, finishes and hardware can influence the overall cost.
Countertops
The materials you choose make the difference in cost: materials like granite, quartz and marble are generally more expensive, while laminate or tile come in at a more affordable range. The size of your countertops, and any special features or edge treatments, can also affect the cost.
Flooring
If you're going high-end in your kitchen remodel, take a look at hardwood or natural stone options as opposed to vinyl or laminate flooring. The square footage and complexity of your kitchen installation can also impact the cost.
Kitchen Remodel Costs vs. Benefits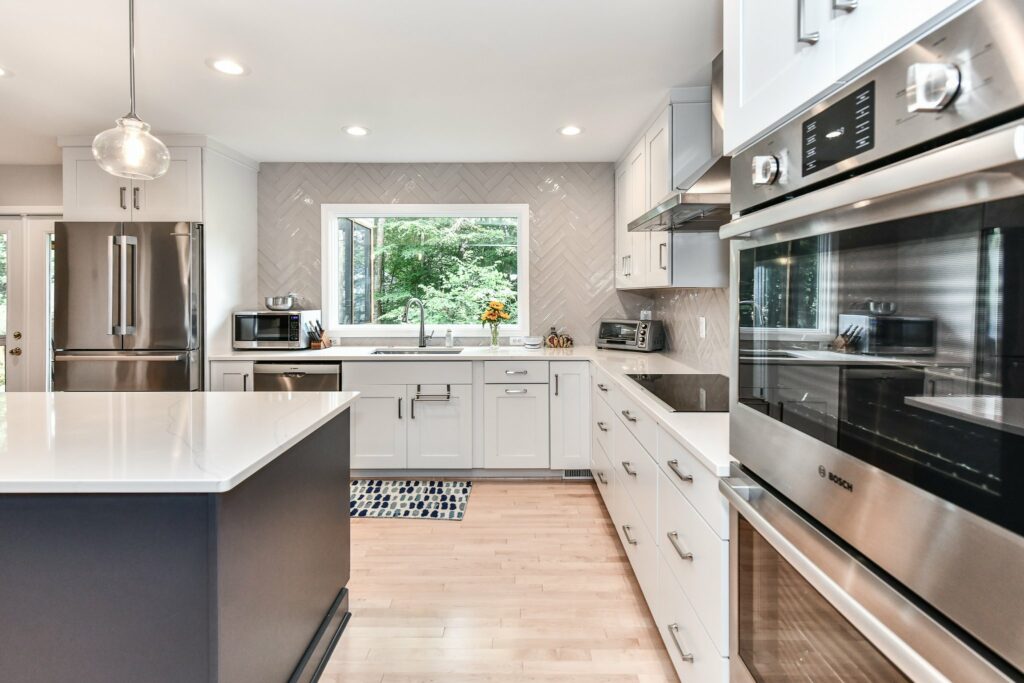 A kitchen remodel involves more than just cost considerations. You must look ahead to the benefits, and how you will enjoy your new kitchen. Here are some of the costs and benefits you might expect.
Costs
Knowing and understanding the costs involved in a kitchen remodel is crucial for planning and budgeting, and both hard and hidden costs are to be considered. They may include:
A significant portion of the budget going toward materials and labor
For an upscale remodel, budgeting for premium materials and high-end appliances
Hidden costs, including unexpected structural issues that may arise
Time budgeting; kitchen remodels can be time-consuming
Noise, dust and disruption to your daily lifestyle during the remodel
The emotional toll, with the stresses of living in your home during the remodeling process, along with decision-making and dealing with unexpected issues
Benefits
A kitchen remodel offers a multitude of benefits that extend beyond the initial cost investment.
A kitchen remodel can significantly enhance functionality. By reconfiguring the layout, adding storage, or incorporating modern appliances, you create a more efficient and user-friendly kitchen.
A well-designed and updated kitchen has the potential to increase your home's value. Look ahead: it's important to strike a balance between your personal preferences and a timeless design choice that can appeal to a broader resale market.
You can personalize the space and reflect your unique style, choosing materials, finishes and colors that align with your tastes, and feel pleasure every time you enter, prepare meals, or socialize in your new kitchen
You can enjoy the benefits of energy efficiency and lower utility bills by upgrading to energy-efficient appliances, LED lighting and eco-friendly materials
The overall aesthetics of your home is improved with updated cabinetry, countertops, flooring and paint to create a visually-appealing space that complements the rest of your home's design
You can address any maintenance or safety risks like outdated electrical wiring or plumbing issues, or accessibility or aging-in-place concerns
Value in Working with a Design-Build Remodeling Firm
One of the primary advantages of working with a design-build remodeling firm is the seamless integration of design and construction services. Your team of architects, designers and contractors all work together, from the initial concept to the final construction phase.
You'll also benefit from the wealth of experience and expertise your design-build firm brings to your kitchen remodel. They will guide you through the decision-making process, offering valuable insights and practical solutions that align with your goals and budget. You can trust in their comprehensive project management that alleviates the burden of obtaining permits, managing subcontractors and overseeing construction to keep the project on time and on budget. With open communication, everyone is kept in the loop and on the same page, with a single point of contact throughout the remodeling journey.
Want to Know More about the Cost of a Kitchen Remodel in Northern Virginia? Contact Schroeder Design Build
With more than 30 years of experience, Schroeder Design Build has built a solid reputation for delivering high-quality projects and exceptional custom service. Trust them to navigate the complexities of a kitchen remodel with confidence, providing you with peace of mind throughout the entire process.
When you want to know more about the costs and benefits of a kitchen remodel in Northern Virginia, contact Schroeder Design Build.