The Cost of a Bathroom Remodel in Northern Virginia
When it comes to remodeling your bathrooms, every decision you make can influence the overall budget. From fixtures and finishes to materials and technology, each choice carries its own price tag. In this post, we'll explore the various choices in a Northern Virginia bathroom remodel and the implications the cost will have on your budget, as well as the potential benefits. By equipping yourself with this knowledge, you can make informed choices that align with your vision, needs and financial parameters.
What Does a Typical Bathroom Remodel Cost in Northern Virginia?
According to Remodeling's 2023 Cost vs. Value Report for the Washington DC region, a bathroom remodel with Universal Design can cost around $42,771, with 43% recouped in resale value. An upscale bathroom remodel's costs can run close to $81,218, with a 33.9% recouped value. And a midrange bathroom addition comes in at around $62,076 with a 25.2% recouped value, versus an upscale bathroom addition at $109,941 and 23.6%.
Three Types of Bathroom Remodels
When it comes to giving your bathrooms a fresh new look, there are three primary types of remodels to consider, each with its own set of features and considerations.
Pull and Replace
A quick and budget-friendly makeover option, the pull and replace model involves replacing existing fixtures and materials with new ones while keeping the existing bathroom layout intact. Key features can include:
Replacing the bathtub, shower, toilet, sink and/or faucets
Updating flooring and walls
Upgrading lighting fixtures and installing energy-efficient LED lighting
Installing new cabinetry or shelving to maximize storage
Replacing towel bars, toilet paper holders and other accessories
Custom Remodel within the Footprint
For a more personalized bathroom remodel without expanding its size, the custom remodel allows for significant design flexibility within the existing layout. Key features can include:
Layout optimization by rearranging fixtures and storage elements
Upgraded, higher-quality fixtures and materials like a luxury shower system or freestanding bathtub
Enhanced storage with custom-built cabinets and shelving
Advanced features like a spa-like bathtub or a walk-in shower
Energy efficiency with low-flow toilets, water-saving faucets and energy-efficient lighting
Upscale Remodel with an Expanded Footprint
If you have the space and the desire for a luxurious bathroom retreat, an upscale remodel offers endless possibilities. Key elements can include:
Layout expansion by repurposing adjacent space such as an adjoining closet or bedroom to accommodate additional fixtures and features
Spa-inspired features like a separate shower, soaking tub or sauna
High-end, premium materials like natural stone, marble and hardwoods
Smart technology features including motion-activated lighting or programmable shower systems
Customization to craft bespoke elements that suit your style
Bathroom Additions
Instead of remodeling your existing bathrooms, consider adding one or more bathrooms to your home. This can be a cost-effective choice that increases the functionality and convenience of your living space, especially in homes with multiple occupants or entertain frequently. Other advantages can include increased property value and the opportunity to design your ideal space according to your preferences.
Factors that Affect Bathroom Costs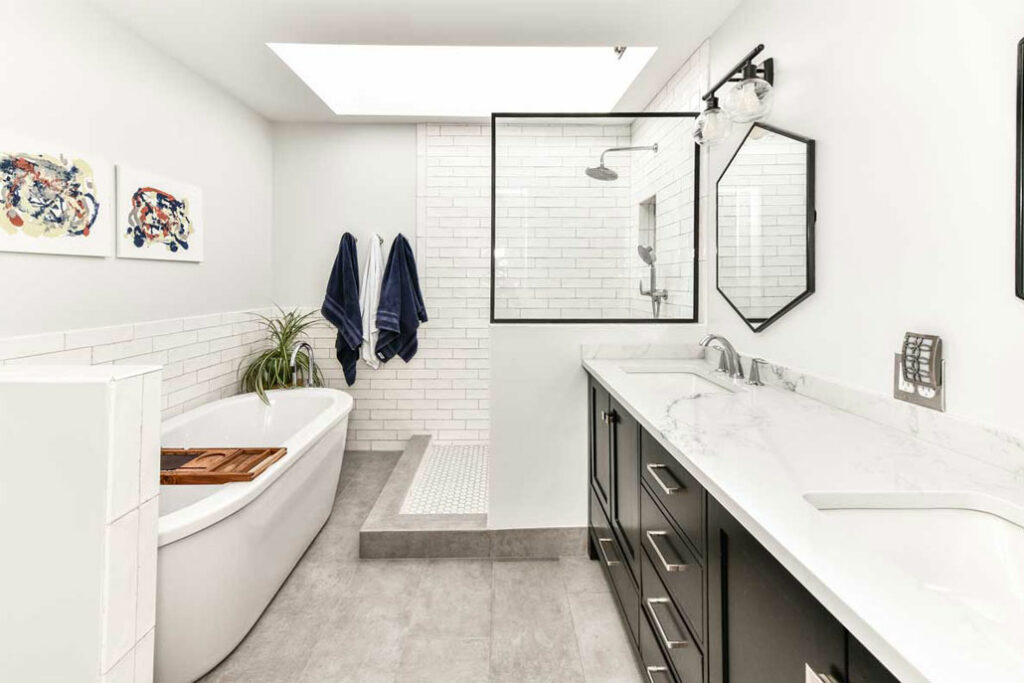 Complete Demolition
This involves removing all existing fixtures, walls, flooring and sometimes even the ceiling. It can be more expensive than a partial demo which targets specific areas or features.
Bathroom Size
Larger bathrooms require more materials, such as tiles, flooring, paint, additional fixtures, lighting and storage, which can increase expenses.
Plumbing Fixtures
If you plan to relocate or modify your plumbing fixtures, the complexity and cost of your bathroom remodel increases. Moving pipes and drains, especially in multi-story homes, involves more labor, materials and potentially the need for permits.
Quality Tub/Shower
Basic acrylic or fiberglass options for your tub and shower can be more budget-friendly, while luxurious materials like cast iron or stone can come with a higher price tag. Additionally, features like whirlpool jets and rainfall showerheads can further increase costs.
Plumbing Fixtures
The grade and quality of your plumbing features, including your faucets, sinks and toilets, impact both the aesthetic appeal and cost of your bathroom remodel. Choosing medium-to-upper grade ranges typically incur higher expenses but can provide better durability, functionality and overall appearance.
Improved Ventilation
Enhancing ventilation is important for maintaining air quality and preventing moisture-related issues. Installing a more powerful exhaust fan or adding a window can contribute to a healthier bathroom environment, but may require electrical work or modifications to the wall or ceiling.
Tile & Flooring
Basic ceramic tiles are generally more affordable, while options like natural stone or high-end porcelain can be pricier. Additionally, intricate patterns, larger tiles or custom designs may increase labor costs due to installation complexity.
Cabinetry
Basic stock cabinetry is more affordable, while custom or semi-custom options offer greater flexibility—but at a higher price tag. Consider your storage needs, materials and finishes for your desired aesthetic.
Countertops
Materials like laminate or tile are more cost-effective, while natural stone, quartz or solid surface options can be more expensive. Consider durability, maintenance requirements and aesthetic appeal to make an informed decision.
Lighting
The type and quantity of lighting fixtures you choose can affect functionality, ambiance and costs in your bathroom. Choose basic overhead lighting or spend more on recessed lighting, vanity lights or decorative fixtures.
Heated Flooring & Heated Towel Bars
Add luxury and comfort with installed heated flooring. The benefits of it may justify the extra expense of materials, labor and electrical work. Heated towel bars offer a cozy and practical addition to your bathroom for a minor cost.
Mirror Quality
Basic mirrors tend to be more affordable, but may lack features like anti-fog coating or LED lighting. Upgrading to higher-quality mirrors with built-in lighting or smart features can increase costs, but provide added convenience and aesthetic appeal.
Medicine Cabinets
Don't overlook the valuable storage space of medicine cabinets that can add to your bathroom's organization and functionality. Costs depend on size, material and additional features. Basic, surface-mounted medicine cabinets are more affordable, while recessed or custom-built options are pricier.
Smart Technology
Incorporating smart technology into your bathroom remodel can enhance convenience, comfort and efficiency. Some of the more expensive options include smart toilets, faucets, shower systems and lighting, and may incur additional installation and setup costs. But their benefits and long-term savings in terms of energy efficiency, water conservation and improved functionality could offset the initial costs.
Bathroom Remodel Costs vs. Benefits
Bathroom remodels can bring both costs and benefits to homeowners, and while they may involve upfront costs and temporary inconveniences, the long-term benefits can be significant.
Costs
Key cost considerations can range beyond the dollars and may include:
Financial investment. Bathroom remodels can vary widely in cost, depending on the scope of the project, materials and labor.
Disruption and inconvenience. Depending on the extent of the project, you may need to alter your lifestyle to use other bathrooms.
Time and effort. A bathroom remodel requires careful planning, coordination and project management. From researching design options to selecting materials to coordinating construction, it's important to allocate time and effort to ensure a successful outcome.
Benefits
Key benefits of your bathroom remodel include:
Increased home value. Upgraded fixtures, modern design and improved functionality not only increase your personal enjoyment, they make your property more appealing to potential buyers, resulting in a higher resale value.
Enhanced aesthetic appeal. Reflects your personal style and preferences while providing a sense of relaxation and luxury.
Improved functionality. You can optimize the layout and functionality to create a more efficient and convenient bathroom that better meets your needs.
Energy efficiency. Upgrading plumbing fixtures, installing low-flow toilets and faucets, and incorporating energy-efficient lighting can reduce water and energy consumption, leading to both long-term cost savings and environmental benefits.
Enhanced comfort and relaxation. Introducing a spa-like shower system, soaking tub and features like heated flooring can transform your bathroom into a private sanctuary.
Improved safety and accessibility. A bathroom remodel presents the opportunity to incorporate safety features and enhance accessibility, particularly for individuals with mobility challenges or aging in place.
Better organization and storage. Optimize storage with creative solutions to ensure a clutter-free, efficient and organized bathroom.
Value in Working with a Design-Build Remodeling Firm
Working with a design-build remodeling firm can streamline the entire process by providing efficient project management, creative design solutions, cost control and quality assurance under one roof. This integrated approach saves you time, minimizes stress and increases the likelihood of a successful and satisfying bathroom remodel.
Design-build firms excel at cost control and budget management and work closely with you to establish a realistic budget, and provide insights to optimize your design while keeping costs in check. And by overlapping the design and construction phases, they can streamline timelines and deliver your bathroom remodel more quickly.
Want to Know More about the Cost of a Bathroom Remodel in Northern Virginia? Contact Schroeder Design Build.
Since 1986, Schroeder Design Build has been providing exceptional value to homeowners throughout Northern Virginia. When you want to investigate the costs and benefits of a bathroom remodel in your home, contact us.