Tile has taken center stage as one of the most versatile and impactful elements of a home remodel. From eco-friendly materials to innovative design concepts, the latest in tile trends and surfaces offers an exciting array of possibilities. So whether you're thinking about a full-home renovation or looking to breathe new life into your living spaces, there's plenty to choose from for inspiration.
Let's Talk About Tile: A Guide
Tiles are an ideal choice for enhancing both the aesthetics and functionality of various surfaces within your home, including walls, floors, countertops and more. They can add elegance, durability and ease of maintenance to your living spaces. This guide will provide insights into the various applications of tiles to help you make the right decisions.
Tile Color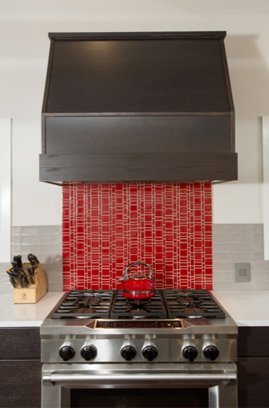 You'll want to select the perfect tile colors to complement your décor and perhaps infuse a bit of personality. Here are some recommendations of tile colors that work well in various areas of your home.
Neutral Tones such as whites, beiges and grays are timeless choices in any room, and are especially popular for bathrooms and kitchens where they can be paired with colorful accents, cabinets or accessories. They provide a clean backdrop that complements a wide range of décor styles.
Earthy and Warm Hues like warm browns, deep reds and rich oranges can create a cozy and inviting atmosphere. These earth-inspired colors are often used in living rooms, bedrooms and dining areas. Terracotta tiles in particular can add a rustic and Mediterranean feel to a space.
Natural and Organic Tones are inspired by nature and include soft greens, blues and muted yellows. They bring a sense of serenity and tranquility to your home and work well in bathrooms, bedrooms and spaces where relaxation is a priority.
Gray and Greige (a blend of gray and beige) tiles are increasingly popular for modern interior design, providing a sleek, contemporary and minimalistic look that complements many interior décor styles. These tiles can be used in bathrooms, kitchens and living rooms.
Bold and Vibrant Accents can infuse personality and energy into your home, especially when you use deep purples, fiery reds or royal blues as statements either on feature walls and backsplashes, or decorative accents.
Monochromatic and Subtle Tones offer a clean and contemporary look, along with a seamless and cohesive appearance if they match the wall or cabinetry colors. This approach is often used in modern kitchens and bathrooms.
Classic and Timeless White Tiles never go out of style. They provide a sense of cleanliness, brightness and elegance. White subway tiles are a classic option for kitchens and bathrooms, while white marble or porcelain tiles can create a luxurious, timeless feel.
Tile Texture and Shapes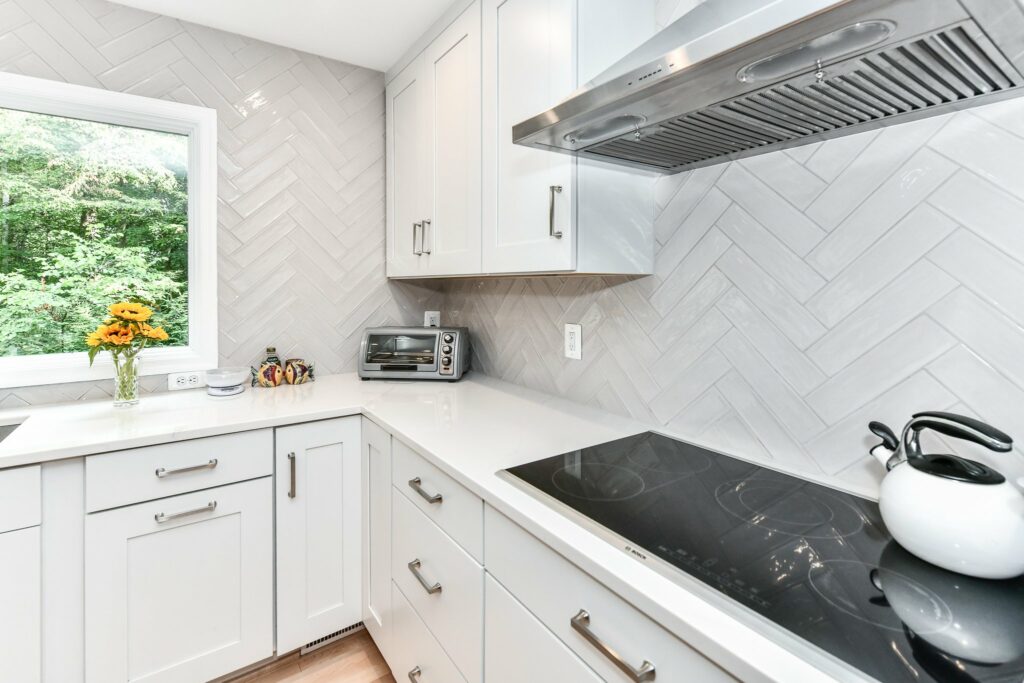 Texture and shape are elements of the tile design and can influence the overall look and feel of any room. Let's look at the options:
Ribbed and Fluted Shaped Tiles have raised edges or grooves to create a 3-dimensional texture. They add depth and visual interest to walls and surfaces, and are most often used in living rooms or bedrooms.
Concave and Convex Shaped Tiles feature inward-curving surfaces on concave tiles and outward-curving surfaces on convex tiles. These shapes are often chosen to add a unique and playful dimension to spaces, such as bathrooms or accent walls, offering a play of light and shadow.
Undulating Tiles have irregular, wavy, or ripple-like patterns on their surface, providing a sense of movement and fluidity to the design. They are a popular choice for accent walls, backsplashes and shower surrounds.
Three-Dimensional Tiles offer a true 3-dimensional texture and can feature geometric patterns, organic shapes or intricate designs that pop out from the surface. You'll often find them in modern and contemporary interior designs.
Subway Tiles, known for their rectangular shape, are a classic, timeless choice and often found in kitchen and bathroom designs as a simple, versatile option for traditional and contemporary interiors. They can be arranged in various patterns, such as the running bond or herringbone.
Hexagonal and Octagonal Tiles are geometric shapes from which you can create patterns in different layouts. Use them for bathroom floors, kitchen backsplashes and accent pieces to add a touch of retro charm to a space.
Geometric Tiles come in various shapes including triangles, diamonds and rhombuses. They can be arranged in intricate patterns and designs to provide a contemporary and captivating effect, and are commonly used in both modern and eclectic interior designs.
Unique Tile Designs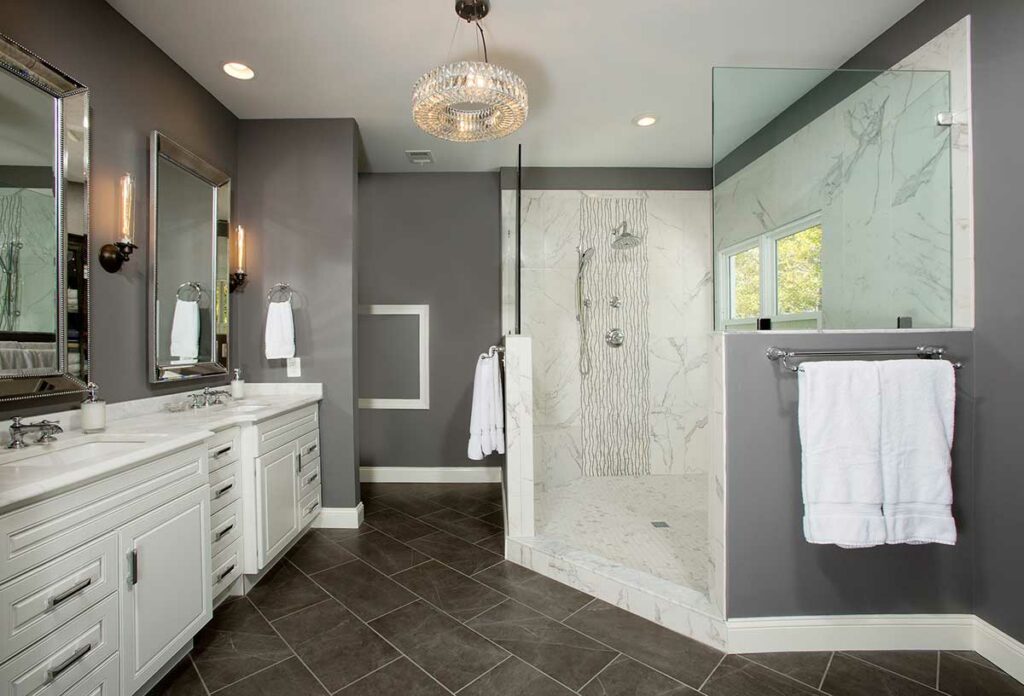 Unique tile designs can infuse your distinct personality into your living spaces and elevate the aesthetics in any room. When selecting these designs, consider the overall style and mood you want to create in each area of your home.
Geometric Patterned Tiles feature intricate and repetitive patterns that can add a sense of order and visual interest to a room. Popular choices include hexagons, triangles, chevrons and herringbone layouts. Use these tiles to create eye-catching floors, backsplashes or accent walls; they work well in both modern and traditional settings to create a striking statement.
Wood-Look Tiles offer the warmth and texture of real wood along with the durability and low-maintenance benefits of ceramic or porcelain. Choose from a variety of wood species and grain patterns to achieve a natural, rustic look in spaces where real wood may not be practical, such as bathrooms and kitchens.
Terrazzo Tiles are composed of a composite material made from chips of marble, glass or other materials set in cement or resin. They feature a unique speckled appearance and come in various colors and patterns to create distinctive floors, countertops or decorative accents.
Moroccan-Inspired Tiles are also known as zellige or encaustic tiles, and are known for their intricate and colorful patterns reflective of the handcrafted quality and rich history of Moroccan tiles. Use these tiles to create a vibrant, exotic space. They work well in bathrooms, kitchens, or as decorative elements in living rooms.
Floral-Patterned Tiles feature delicate or bold floral motifs that bring nature indoors. These tiles are commonly used in bathrooms, kitchens and living spaces to offer freshness, vitality and a decorative flair. Choose from a wide variety of styles, from traditional to contemporary.
Mosaic Tiles consist of small, individual pieces, and give you the opportunity to create intricate and personalized designs ranging from monochromatic patterns to complex, multi-colored compositions. They are versatile for use in showers, swimming pools, or as decorative features on walls and floors.
Patchwork Tiles combine various patterns, colors and designs into a single tile, creating a visually-captivating mosaic effect. They'll add a playful, eclectic touch to a kitchen or bathroom to break away from the monotony of simple or one-color tiles.
Schroeder Design Build's Expertise in Tile Trends Helps Northern Virginia Homeowners Make the Right Tile Decisions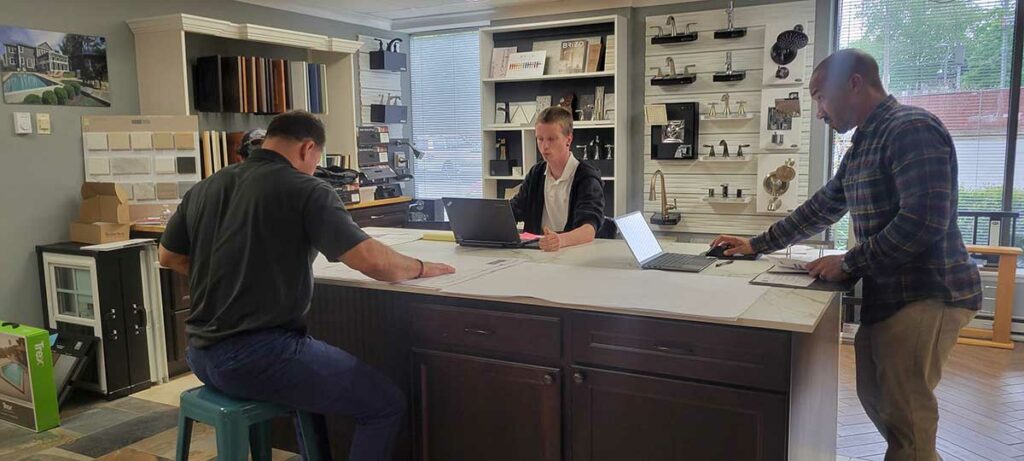 When it comes to choosing tile, rely on the expertise of Schroeder Design Build's design team to help you make the right decisions for your kitchen, bathrooms, addition, or any other room in your home. Here's how their experience can benefit homeowners throughout Northern Virginia:
In-Depth Product Knowledge
Schroeder's design team possesses an extensive understanding of the various tile materials, characteristics and suitable applications and can help guide homeowners through the selection process. They'll explain the pros and cons of each type, pointing out which are best for high-traffic areas, wet spaces or purely aesthetic purposes.
Tailored Design Advice
Personalized design advice helps homeowners select tiles that harmonize with the overall design concept and preferences in their remodel. This includes recommendations on the right color schemes, patterns and sizes, and grout selections, along with creative applications such as feature walls or unique tile combinations. Durability and maintenance factors also come into play, taking into account foot traffic, moisture exposure and resistance to wear and tear.
Cost-Efficiency and Quality
Schroeder Design Build's experience helps homeowners make cost-effective decisions considering material costs, installation expenses and unique features like edges or surface treatments without compromising quality. Having connections with the finest tile suppliers and manufacturers allows Schroeder to source high-quality products that meet your requirements for quality and reliability.
Expert Installation
A deep understanding of the installation process and experienced team members guarantee that tiles are laid correctly and securely, an essential element for longevity and safety.
Contact Schroeder Design Build Today
When it comes to selecting and installing the right tile, you'll need an expert on your side. Let Schroeder Design Build inspire you with the latest in tile trends and surfaces for your remodel. Contact us today for your free initial consultation.
Look for exciting tile layouts in our portfolio of projects and sign up for our newsletter!