Imagine yourself at the end of a busy day relaxing with a beautiful view. Or picture yourself curled up with a good book and a cup of coffee while basking in the rays of the morning sun…all while inside your own home! That's the kind of lifestyle upgrade you can expect when you add a sunroom addition to your house. Use it for relaxing, entertaining, or just enjoying the outdoors in the comforts of year-round access. In this post, we'll explore the ways you can design and build the perfect sunroom for your Northern Virginia home.
Know the Different Types of Enclosed Porches
Not all enclosed porches are the same. In fact, you have several choices in how you would like your enclosed porch to look and function. Let's look at the differences.
Screened-in Porch. A screened-in porch has screens on all sides that allow air flow while keeping insects and debris out.
Three-season Porch. A three-season porch has weatherproof walls and a roof for protection in colder months. It also has windows, normally with screens, that can be opened for ventilation. Since it does not contain a heating system, it is not used during the coldest months.
Four-season Porch or Sunroom. A four-season porch or sunroom has framing, a roof, windows and screens like a three-season one does, with the addition of insulation and a heating and cooling system. It can be used any time of the year. Sunrooms often feature large windows that let in light and provide scenic views, and both four-season rooms and sunrooms offer an inviting and comfortable space for homeowners to enjoy the beauty of the outdoors, even when the weather is less than ideal.
Conservatory Porch. A conservatory porch differentiates itself by having a glass roof and walls. It gives the homeowner the feeling of being in the outdoors, and can work as a solarium for indoor plants.
Consider How You Will Use Your Sunroom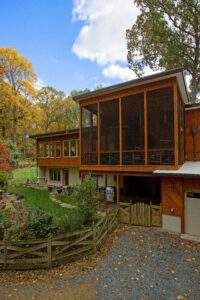 The versatility of a sunroom makes it a valuable addition to any home, allowing the space to be used in many ways to suit your needs and preferences. Some ideas include:
Relaxation and recreation. Use this space for lounging, reading, or enjoying a morning cup of coffee or an evening glass of wine while taking in the views.
Your sunroom is the perfect space for hosting small gatherings, parties or family events.
A workout room or yoga studio is enhanced by the connection to nature.
Year-round pleasure can be taken from growing plants indoors in the light-filled space.
Home office. A sunroom provides a quiet out-of-the-way area, along with a bright workspace, for a home office.
Use your sunroom as a unique or cozy dining area.
In the "olden days" people used a sleeping porch when the weather was hot. Add a daybed and enjoy your sunroom as a napping place or impromptu guest bedroom.
Determine the Location and Size of Your Sunroom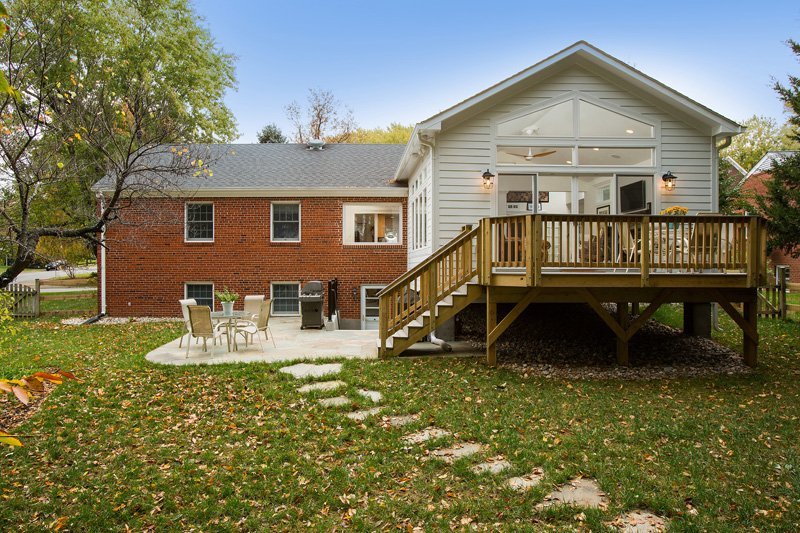 The best place to build a sunroom onto your home and the size you want depend on several factors, including:
Sun exposure. You'll want to choose a location that will provide ample light, such as a south- or west-facing wall.
Ease of access from the rest of the house is important.
If possible, the best location is the one offering the most scenic views.
Privacy issues can come into play if you have nearby neighbors or are located on a busy street.
You will need enough room to build your sunroom without infringing on your yard, outdoor areas or lot easements.
The location and size you choose may impact the cost of the project. A larger size and some locations may require more complex construction or a larger amount of materials.
Home layout. Your contractor will need to work with your existing home's architecture to ensure that the addition works well with existing rooflines and blends seamlessly with the existing architecture when completed.
You may have an idea of where you'd like to your sunroom to be built, but it is important to consult with a professional design-build remodeling firm to determine the best and most cost-effective location for your sunroom, depending on your specific needs, your home's layout and your budget. The professionals can also help you assess the project's feasibility and ensure that all building codes and regulations are met. You'll also want to match your home's aesthetics to create a pleasing transition.
Determine the Types of Heating, Electrical and Insulation Needed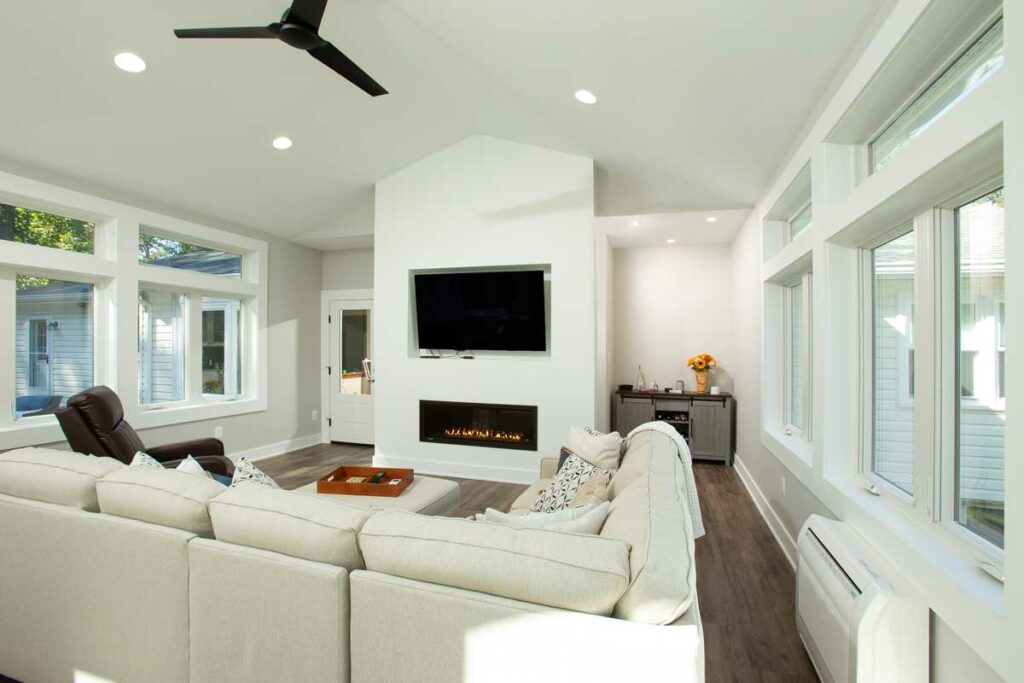 Year-round comfort is the goal of a four-season sunroom, and to create the optimal environment, you need to consider the heating, electrical and insulation factors.
If you plan to use your sunroom year-round, it will need a heating system that is appropriate for the size of the room and our Northern Virginia climate. Options can include electric or gas heaters, a separate or tied-in HVAC system, or a ductless mini-split system.
For the best year-round functionality, you will need to include electrical outlets along with lighting fixtures. A ceiling fan is another great choice.
To provide a thermal barrier and maintain a comfortable temperature no matter what the weather, spray foam, fiberglass or blown-in insulation should be installed in the walls, roof and floor.
Consider Windows, Doors and Skylight Selections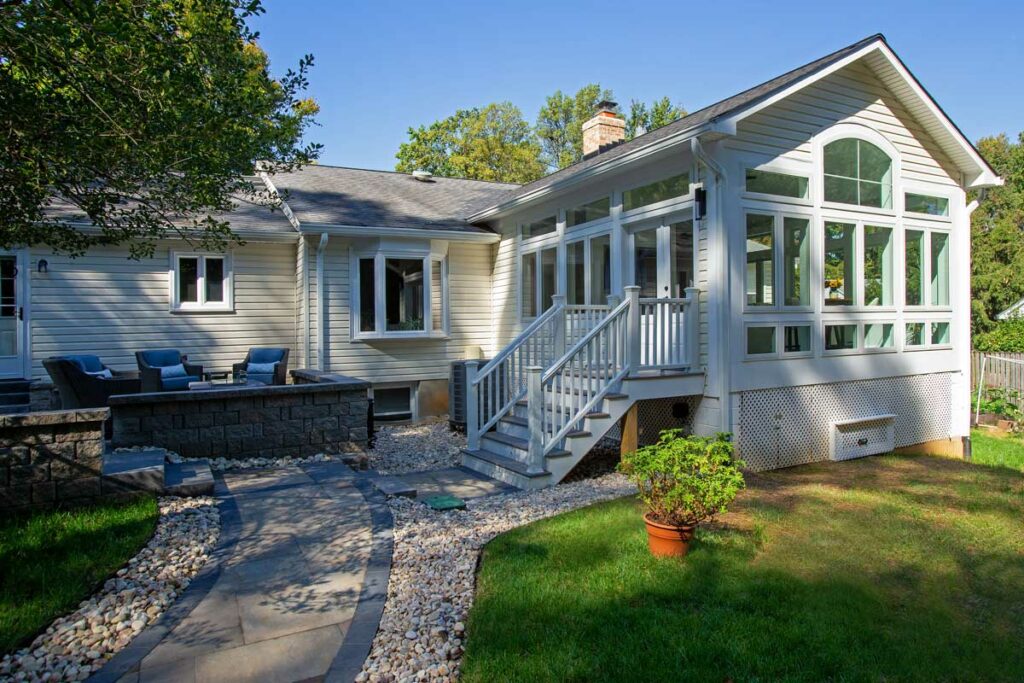 "A sunroom isn't a sunroom without walls of windows and bright natural light," states window manufacturer Pella, so in your sunroom, you'll want to maximize light and exterior views by choosing the ideal windows, doors and skylight(s). Other considerations include energy efficiency, ventilation needs, durability and cost.
Double-hung windows. With two independent sashes, double-hung windows can move independently to be raised from the bottom or lowered from the top.
Sliding windows and doors. Popular choices for sunrooms, sliding windows and doors slide on a track horizontally. They can maximize interior and exterior space and allow access to the outdoors.
Casement windows. Open a casement window for fresh air with the simple turn of a crank. This window type is easily accessible, even if furniture is placed in front of the window.
Picture windows and doors. Maximize views with a large solid-glass or mullioned window or door. These are ideal for floor-to-ceiling window designs and provide enhanced security since they do not open.
Bring in additional light to your sunroom with a skylight featuring high-performing, energy-efficient glass. Skylights can also provide natural light when windows create a privacy issue, and help to reduce energy use by balancing light with heat loss.
Contemplate your Design Details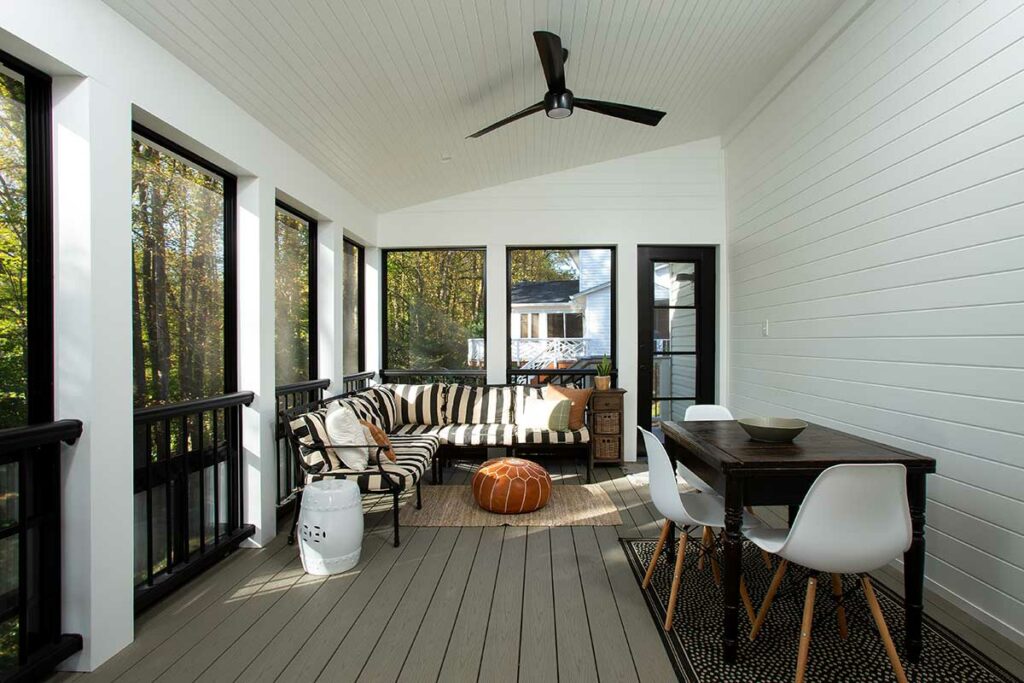 How you are going to use the room can have impact on the elements that make the space functional, comfortable and aesthetically pleasing. When designing your sunroom, contemplate these design details:
Use a combination of natural and artificial lighting, such as large windows and skylights matched with ceiling and floor lamps.
Your sunroom is a place to relax, so comfortable and durable seating options are good choices. If you use the room for dining, pick a table and chairs that fit the space and aesthetics.
Comfortable and durable also come into play with flooring, along with easy-to-clean options like hardwood or tile.
Décor. Plants, rugs, artwork and decorative items help personalize your sunroom and make it feel inviting.
Window treatments. Curtains, blinds, shades or indoor shutters help to control the amount of light entering the room while adding a decorative element.
Select furniture that is appropriately-sized and styled for your sunroom.
Bright, cheery colors that reflect the natural light can enhance your enjoyment.
If you are using your sunroom for a specific purpose, like a home office or yoga studio, select designs that work with that theme, not against it.
Hire Schroeder Design Build to Design and Build Your Ideal Sunroom Addition in Northern Virginia
Sunrooms are perfect additions for our Northern Virginia climate where they can be used all year long. And by working with a design-build remodeler like Schroeder Design Build, you have the assurance of expertise, accountability, enhanced communication, and a streamlined and efficient design and construction process.
Schroeder Design Build is a second-generation family owned and operated firm founded in 1986 that has created award-winning remodeling projects for more than 1,000 clients throughout Northern Virginia. Read our project stories to see how we've created beautiful sunrooms for other clients, and get inspiration from our project portfolios.
Contact us today and let's talk about adding a sunroom to your home!
Get more ideas through our newsletter!