Now that you've remodeled your kitchen (or if you're looking forward to remodeling it), you're bound to be excited about cooking in it! Shiny new appliances, gleaming countertops and ample cabinet space make it a pleasure to be in the kitchen. And no matter where you are in your cooking prowess, there's always something to learn. Here are some chefs' tips to enjoying your newly-remodeled kitchen.
Employ Mise en Place
Mise en place is a French term meaning "putting in place." Gather your recipe, ingredients, cooking utensils in one place prior to cooking and prepare any items in advance, like chopping vegetables or measuring flour. Think about where you will be using each item and plan out accordingly. This is how chefs create a meal quickly.
You Only Need 5 Knives
Professional chefs usually purchase their own knives and take great care of them. Their knife packet includes a paring (2-4" blade), boning (5-7" firm blade), fillet (5-8" pliable blade), French chef's (8-14" blade), and serrated (12-14" jagged blade) knife.
How to Cook with Oil
Heat the pan before adding oil for charring, searing, stir-frying or sautéing. If the oil is put in too early, its chemical bonds break down and it loses its lubricating quality. Pan-frying and deep-frying are exceptions due to the greater oil volume.
Add the right oil with the appropriate smoke point.
If the oil smokes or changes color before adding the food, it's too hot. Throw it out, wipe out the pan, and start over. If the oil gets too hot it releases carcinogens and can reach the flash point where it combusts into flames.
Use dry, room-temperature food.
Don't crowd the pan.
Don't flip proteins (meats, eggs, fish) early. When it is properly seared, it will naturally release from the pan.
Oil Smoke Points
The oil smoke point is the temperature at which an oil begins to break down and burn. Going past its smoke point can ruin a dish. Different oils are appropriate for different types of cooking, and it's important to know which type works best.
400°F = Sesame oil; refined canola oil; extra virgin olive oil; vegetable shortening; regular butter
450°F = Extra light (refined) olive oil; refined soybean, sunflower, corn or peanut oil; clarified butter
500°F = Refined avocado oil; refined safflower oil
When to Add Salt
You may be tempted to pick up the salt shaker when you begin cooking, but professional chefs know that the optimal times to add salt can vary.
Tenderizing meat: salt 1-4 hours ahead of cooking
Boiling liquids in aluminum or cast iron: Add the salt after boiling begins to avoid pitting the pot. Salt the water when cooking vegetables or pasta.
Deep-frying: salt after frying
Making stock or reducing: don't add salt during cooking or reduction, the result will be too salty
Baking: salt not only adds taste, it activates rising; add according to recipe directions
Finishing: salt that is added just before serving or consuming food; varieties include Fleur de Sel, Maldon, Himalayan Pink Salt, or Grinding Salt.
Types of Salt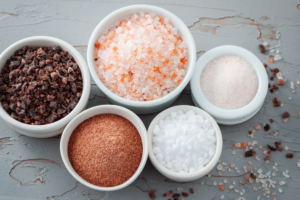 There are generally four types of salt, and each can be used for different applications in the kitchen.
Table salt: fine granules generally used in a salt shaker; highly refined; easily measured for recipes; additives can lend a metallic taste
Kosher salt: varying-sized coarse granules; easy to pinch and sprinkle; no additives; a chef's favorite for cooking
Sea salt: coarse or fine grains; evaporated from sea water; strongest flavor; most costly; comes in gray, pink, brown and black varieties
Rock salt: large unrefined crystals; not suitable for eating, normally used to presenting shellfish; grayish hue
Chefs Say: Remodel Your Kitchen for How You Will Use it
Remodeling your kitchen isn't just about making selections of countertops or cabinet colors. It's about HOW you will use your kitchen for a long time to come. Work with a design/build remodeling firm that will review your current and future needs, your lifestyle, and your dreams for your kitchen, and then design and build it to match your vision. Then enjoy it using these chefs' tips.
For Kitchen Remodeling in NOVA, Contact Schroeder Design/Build
If you'd like to explore remodeling your residential or commercial kitchen in Northern Virginia, contact Schroeder Design/Build.
–excerpted from 101 Things I learned in Culinary School, by Louis Eguaras with Matthew Frederick