Tis the season of the outdoor grill! A lot of great summer memories are made enjoying a backyard cookout with friends and family and we think that's the reason why homeowners have started taking a closer look at their outdoor spaces and how they can make them more functional for cooking and entertaining. When designing an outdoor area, we recommend giving its design the same amount of attention that you would an indoor remodeling project. For an outdoor kitchen, this means careful consideration of four key components: cooking, dining, lighting, & layout.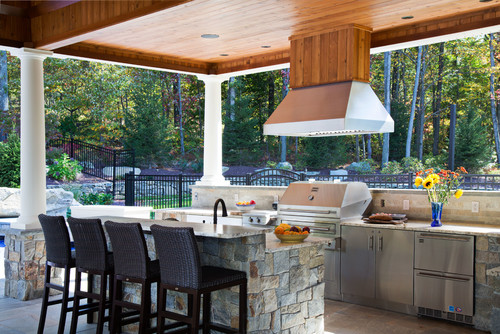 To begin, let's take a look at cooking. In order to start the design of any outdoor kitchen, you first need to decide what and how you would like to cook in it. A grill is naturally part of the equation, but other considerations include prep and serving areas, refrigeration needs, and a sink for clean up. All of these would make your outdoor cooking area less dependent on your indoor kitchen. You may also want to have other appliances such as a smoker, warming drawers, pizza ovens or gas stove top. Storage must be planned to house all the necessary cooking implements and dishes, glasses, and serving ware if you would like them to be handy. And lastly, make sure that you think about how you like to cook. Do you have helpers or does one person handle it all? All of these considerations will allow your designer to come up with a layout that will accommodate your appliances, countertops, storage, and enough space for those who will be using it.
Next, let's think about your dining options. What type of entertaining do you envision? Casual family meals without a lot of fuss, dinner gatherings of friends and neighbors where you serve a complete meal, or perhaps both? A great option for casual dining and entertaining is to incorporate bar seating either as part of or separate from your kitchen area. For more formal or seated meals, allow space for an outdoor dining table and chairs.
Lighting your outdoor kitchen and living areas is just as important as your indoor spaces. At night, it can be difficult to navigate without proper illumination so you will want to include a lighting plan for your cooking and dining areas as well as any pathways or stairs. If you have a roof over your space, consider overhead lighting such as ceiling fans or pendants. Sconces can be hung on walls or columns and in-ground or in-stair lighting can be added to help navigate stairways and paths. Candles, lanterns and tiki torches are also nice touches to add additional light and ambiance.
Lastly, let's discuss layout. After you have a clear idea of the cooking, dining and lighting components, your designer will be ready to develop your floorplan or layout. If there are other activities you want to be able to do or elements you want to include be sure to let them know. Some examples of these might include playing yard games or building a fireplace or fire pit. Based on your home site and preferences, your outdoor kitchen can be built on a deck or patio with or without a roof element. Your overall layout will indicate the optimal positioning and size for each individual area and encourage easy flow between them.
---
Is an outdoor kitchen remodel in your future? We hope these tips have given you some inspiration and confidence on how to get started. Please give us a call when you are ready, we'd love to discuss your ideas and create an outdoor kitchen your family can enjoy for years to come.