Due in part to the pandemic, the idea of creating dedicated spaces in your home has flourished. Families not only want separate areas in the home for privacy, they are desiring areas designed for one unique purpose, like a home office or gym. Now is your time to get creative! To get you started, here are eight of the most popular dedicated spaces design trends.
1) Home Fitness or CrossFit Gym
Staying in shape has always been a priority, and having a dedicated space for a home gym makes it all-so-more convenient to work out.
The first decision is where to place your home gym. Homeowners are finding creative ways to incorporate a home gym, using a spare bedroom, attic or basement areas, a garage, or even an outbuilding to house their equipment and workout space.
Some of the requirements for a home gym can include electrical outlets (for electronic machines like a treadmill or Peleton bike), floor space for mats and stretching, durable flooring, cushioned floor mats for weights or noise dampening, wall mirrors, fans, mounted TV sets, and lighting (bright or mood lighting). Create areas for equipment storage, like cubbies or cabinets, and perhaps even install a small refrigerator for cooled drinks.
2) Home Office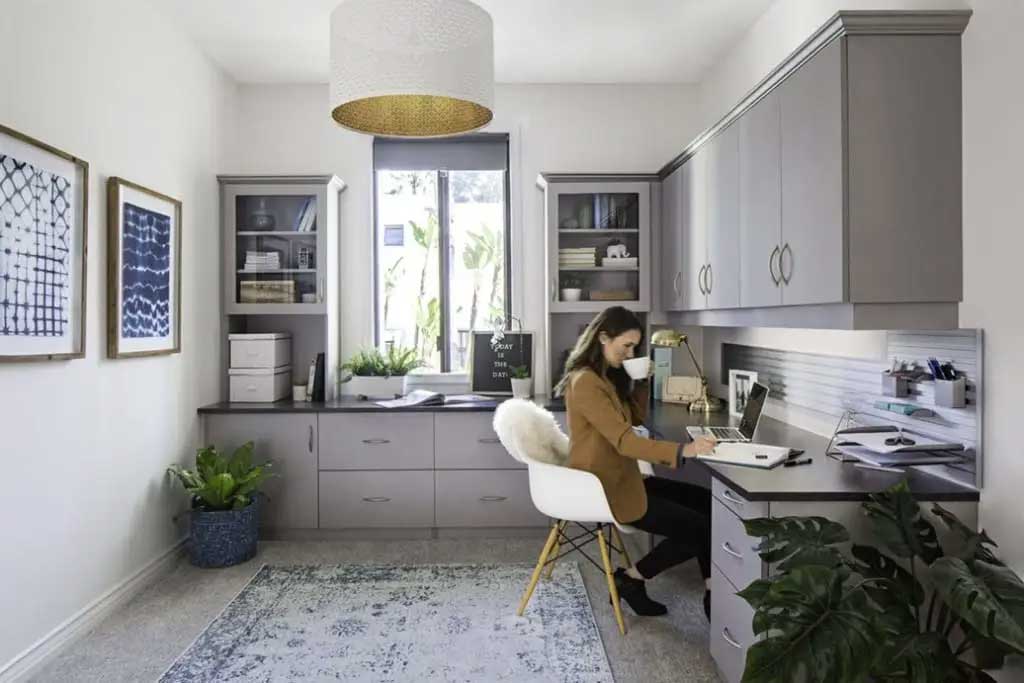 Two years after the pandemic began, six out of ten workers state that their jobs can be done from home, and that when the coronavirus outbreak is over, 60% of workers would like to continue to work from home if they had a choice, according to a PEW Research Center study.  Another study by Global Workplace Analytics indicates that 22% of the US workforce will work remotely by 2025. This leads to a higher demand than ever for a home office.
Begin by defining your needs. What size, atmosphere and utilization are needed? How many people will be working there? What electrical, furniture, and technology needs do you have? What location is best?  Having a dedicated space in your home allows you the privacy and controlled environment you need in a home office for concentration and online meetings, although temporary quarters can be arranged through room dividers, screens or hideaway storage options.
Things to consider include task and natural lighting, video conferencing technology, furniture placement, shelving and storage, and personal decorations. Don't hesitate to make your home office a cozy area with a couch or comfortable chairs. After all, you'll be spending a good part of your day there.
3) Art Studio
Children and adults alike get great pleasure from artistic endeavors, so why not create a dedicated space in your home for an art studio! For professional artists, it's a must! Instead of working at the dining room table and having to clean up the mess every evening, plan a room where your inner artist can express itself freely. Most commonly, homeowners choose a spare bedroom, attic, basement, or shed for their art studio, but creative spaces can be found under stairs, in a corner, or even on the screened-in porch or patio.
Your workspace should be able to incorporate a drawing table, desk or easel, chairs, storage for art supplies, and plenty of natural light. Add task or bright lighting for evening sessions. Ventilation is also crucial, especially if you are working with chemicals, paints, glues or other potentially harmful mediums. Open windows and use a fan or vent to provide fresh air. Easy-to-clean flooring and a utility sink are also helpful.
4) Media/Game Room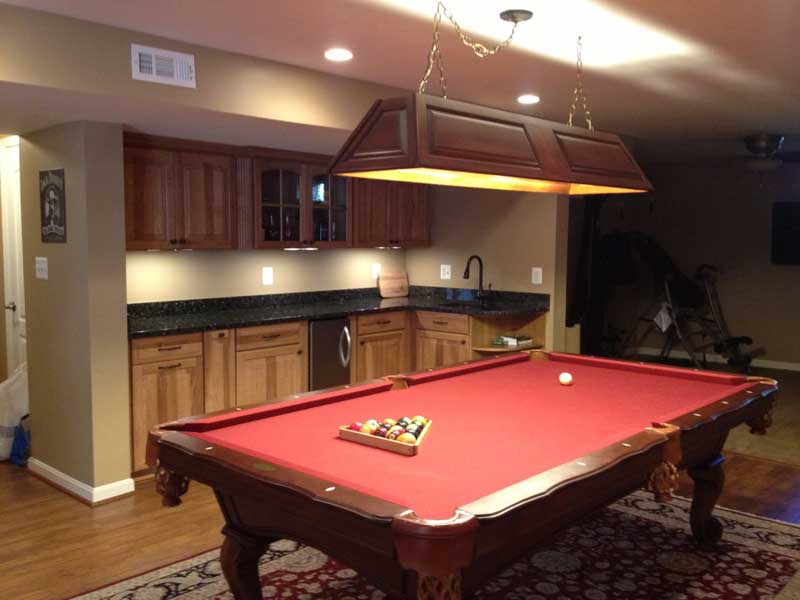 Having a dedicated media or game room space for the family to gather and entertain is a great design idea. Depending upon the size of your space, your options can range from a full in-home theatre or pool room and bar to a cozy area with comfortable couches, large screen TV, WiFi and surround sound. Tie in an entertainment system with your game room to create a dual-use room. Add a mini fridge or a mini kitchen for snacks and drinks, and incorporate fun, themed décor. Install dimmable, task or perimeter lighting, and shades for blacking out windows in a theatre space. For a media room, avoid glossy walls that can reflect light.
5) Wine Cellar
If you're a wine connoisseur, your home probably has an area you can use as a dedicated space for a wine cellar. In just 30 square feet, you can store a collection of up to 250 bottles!
Basements are perfect, since they are cooler and away from light. However, you'll need to create a controlled environment. Your wine cellar should maintain a constant temperature of around 55 degrees F, and humidity control is crucial. The ideal humidity level is 57%. Go higher and mold can grow in the cork; go lower and the cork can dry out. A 6-millimeter poly moisture barrier should be installed outside the framed walls, with insulation to the inside, finished with a mold- and mildew-resistant drywall.
6) Home Library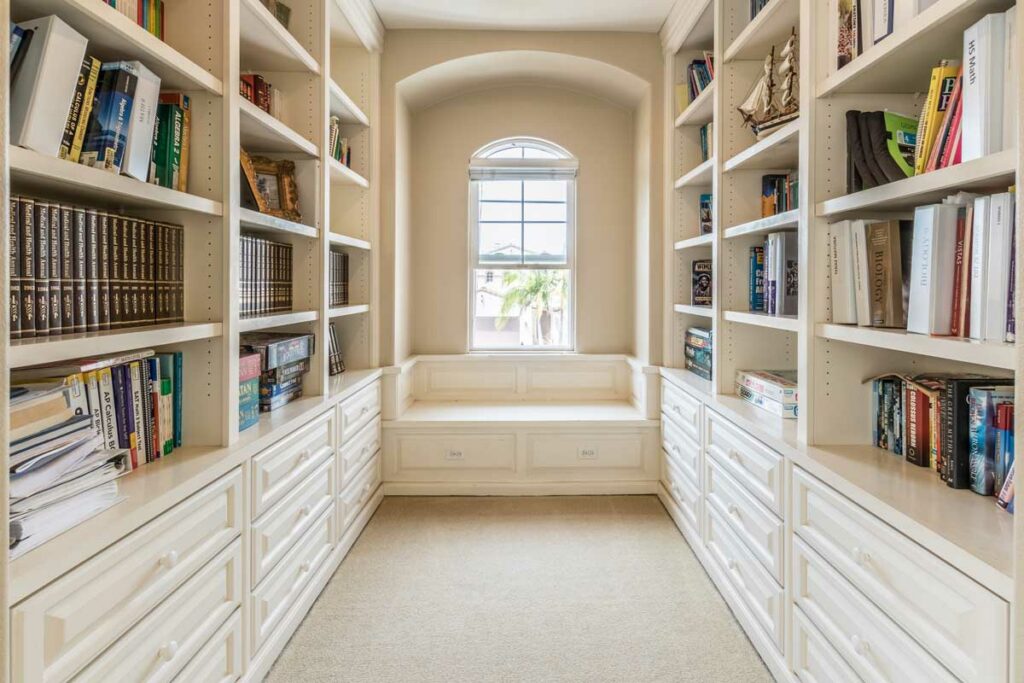 Love to read? Designing a home library doesn't mean you need an entire room. You can easily create a library area that goes beyond just book storage in any room. Install beautifully-milled bookcases along a blank wall, with comfortable seating either built in or nearby. But don't just load the shelves with books; break up the monotony by leaving space for mementos from your travels, artwork and decorative pieces. Natural light adds to the ambiance of a home library and makes it easy to read for both work and pleasure.
Most often, homeowners create their home library in the living room or family room. We've also seen them in the kitchen, bedrooms, and even a bathroom! Showcase your books by color, subject matter, or a filing system.
7) Play Room
Give the kids a dedicated space of their own with a perfect playroom. This is an area where your imagination can go wild! For younger children, design a castle setting for make-believe or a play kitchen for budding chefs, for example. For older children, create zones for entertainment, relaxing and play, like a quiet reading nook or an art table. Choose a focal point to the room and don't be afraid to use color.
Safety is a concern in a home play room. Plan built-in furniture, and securely attach bookcases and shelving to the walls to avoid accidents with active children. Add appropriate lighting for reading, play and gaming. Be clever with storage, going back to the zones where activities will take place.
8) Flex Room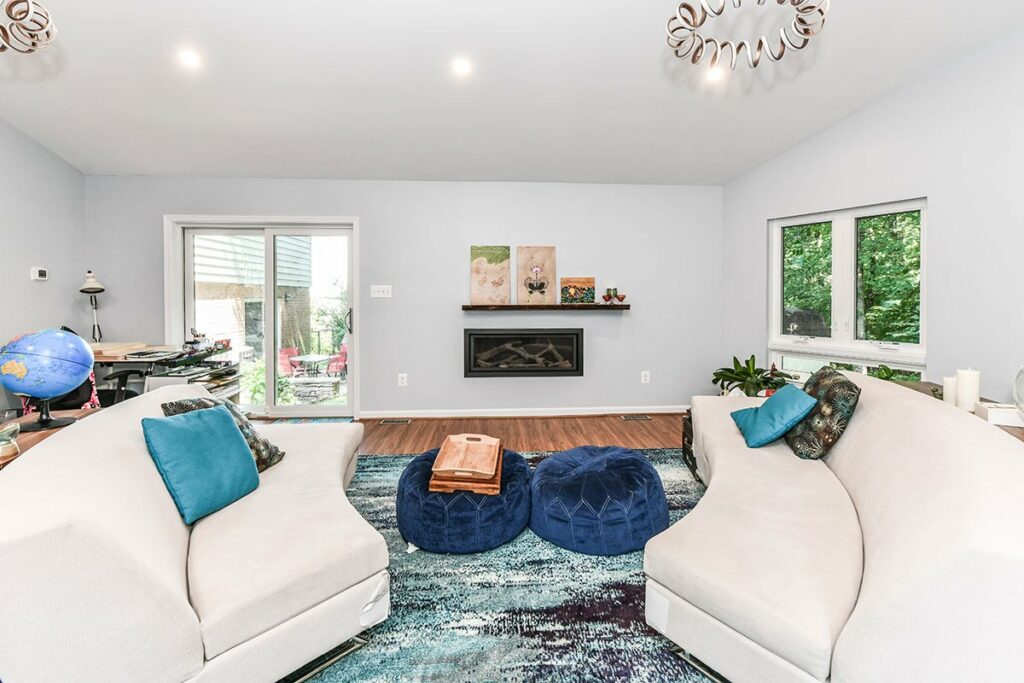 If you have a number of interests, consider creating a space in your home that can accommodate multiple uses—a bonus room or flex room. This way you can use it for whatever you want!
A flex room can be adapted into your existing home, or added on with an addition or outbuilding, and can quickly convert from a playroom to a home office to a guest room for visiting relatives in a flash. Turn a spare bedroom into a multipurpose room with the addition of a desk and Murphy bed. Transform an unused dining room into a multi-media/entertainment room. You can even re-imagine small space like a nook into a study area or mini bar—adding multiple uses to a single room.
When it Comes to Creating Dedicated Spaces in Your Northern Virginia Home, Trust the Creative Expertise at Schroeder Design/Build
At Schroeder Design/Build, we're a true design-build remodeling firm and employ in-house creative designers and architects who can bring your vision to life. You'll conveniently work with one firm from design through construction—and love the result and the experience along the way.
We're not afraid to be creative! What do you have in mind for your new dedicated space? Contact us for a free initial consultation to learn how you can transform your house into a home you love.
Sign up for our newsletter for more design and remodeling trends.