People are always curious about what's coming next. And in remodeling, we like to look at what consumers are asking for. What the industry is seeing are five remodeling project trends expected to boom in 2022.
Remodeling Project Trends for 2022
Trend 1: Better mudroom functionality
Families are well familiar with the frantic searches for keys, backpacks, gloves, hats, and other essentials, especially during the morning rush to get out the door. Remodelers can help alleviate the confusion with a mudroom constructed to a family's individual needs.
Those designing a mudroom, or an "all-purpose drop zone," can build from scratch or convert an underutilized space such as an area in or near the garage or laundry room. Other areas that function well include drop-off areas for package and grocery deliveries; pet washing stations with an oversized sink or shower pan; specified storage for each family member; laundry equipment area with shelving, a folding counter and a sink; a central charging station; and even something fun like a boot dryer. A waterproof, easy-to-clean luxury vinyl tile floor helps.
Trend 2: Specialized Outdoor Rooms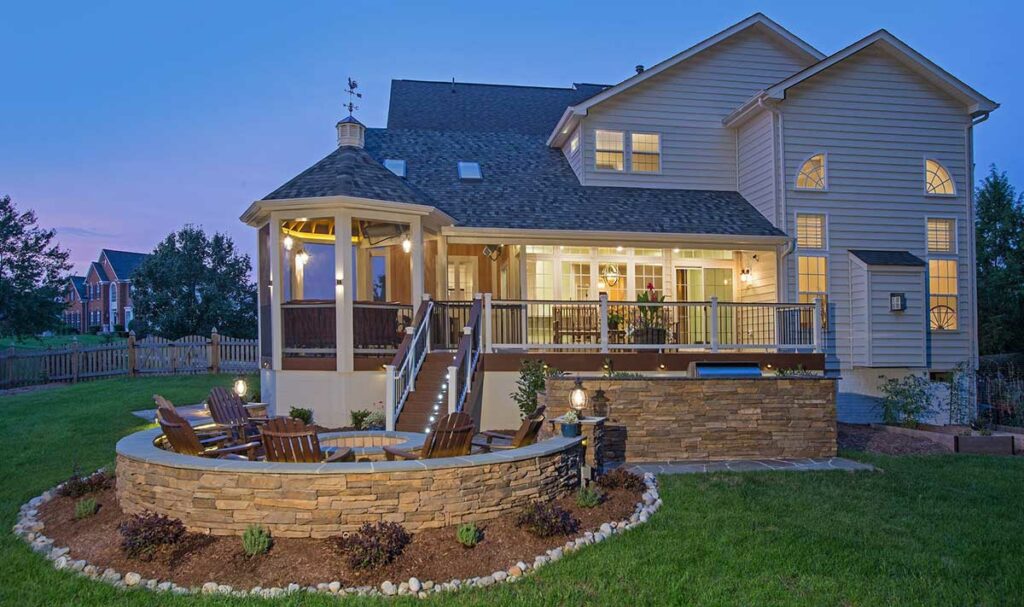 Homeowners are asking remodelers to build spaces to suit their favorite interests. Landscape architect Ryan Kettelkamp of the Chicago-based Kettelkamp & Kettelkamp found that "more clients wanted an outdoor kitchen this past season." This included a grill, water source and a pizza oven!
Remodeling project trends indicated that other families may want a firepit or outdoor fireplace; a lawn or terrace area where a large screen can be put up to watch movies; an edible garden; and raised wood planters and trellises.
Trend 3: Larger Windows
Homeowners want to feel like they're connecting with the outdoors even when they're stuck inside and are changing out windows and doors to fit larger glass options. Windows installed higher, as in a clerestory; garage-style glass doors that roll up; and smaller framework for a thinner window profile are being requested. Durability and energy efficiency remain at the top of the list.
Trend 4: Flexible Home Offices
Having a place to work or study from home became a need during the pandemic. According to the 2021 Houzz Emerging Home Design Trends Report, searches for home offices were up 108%. Designing a room or area with privacy, light and quiet was important.
Connecticut-based designer Sharon McCormick suggests asking yourself these questions:
Do you need a door?
Do you want natural light?
Do you need or want to share space?
Do you have an extra room or space, like a large walk-in closet, landing, attic or basement?
What furnishings and accessories do you need?
Trend 5: Accessory Dwelling Units (ADUs)
Those with space on their property may opt for the remodeling project trend of building an accessory dwelling unit, or ADU. Similar to a tiny house, these structures are "generally detached from the main house and range in size between 500 and 800 square feet, but as large as 1,200 square feet," said Caitlin Bigelow, an ADU advocate who runs Maxable, an educational resource on ADUs.
Increased approval from planning and building departments has boosted the popularity of ADUs, which can be used as a housing solution for returning grown children, renters, or older parents (granny flat).
Bigelow recommends installing doorways that accommodate a wheelchair, and removing thresholds between areas when designing your ADU, and including natural light, insulation, key appliances and universal design features overall.
Related: Did you miss our July 2021 design seminar on ADUS? Watch it here!
For Expert Remodeling, Contact Schroeder Design/Build
You too, can add function, value and joy to your home, both inside and out with these remodeling project trends. Contact Schroeder Design/Build to talk about your remodeling dreams in Northern Virginia.
Excerpted from "5 Remodeling Projects Expected to Boom in 2022" by Barbara Ballinger, published in Pro Remodeler, September 20, 2021.