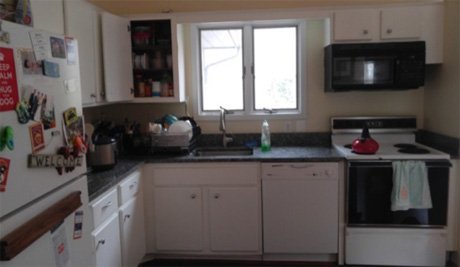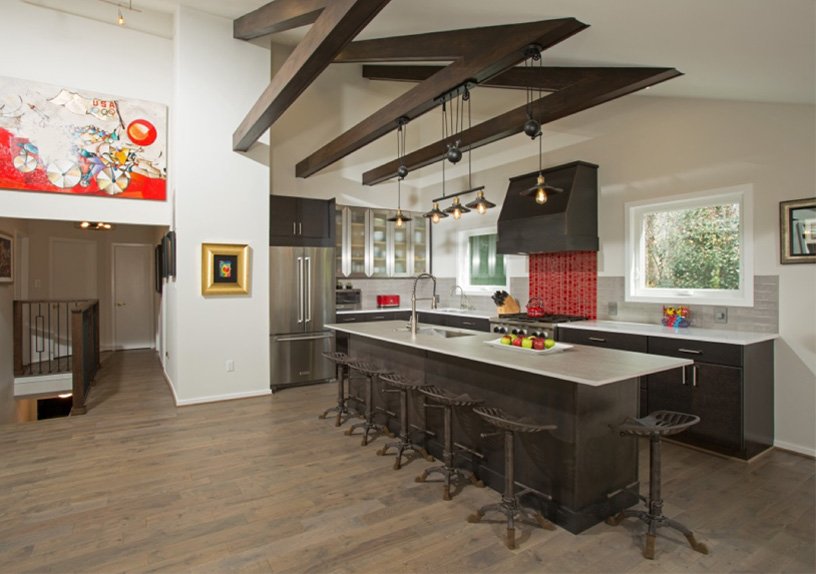 Remodeling Need
Our clients essentially desired a contemporary design with an open-concept floor plan that was functional, unique yet aesthetically pleasing, and more usable space. We listened and understood that our clients home was about gathering and entertaining families and friends. We surprised them with a new floor plan and design that met their needs, but exceeded their expectations which gave them WOW factors throughout the home.
Design Solution
To expose the beautiful slopped ceiling and construct an open-concept floor plan throughout the house, the interior walls that divided the existing living room and kitchen were removed.
Added 2 skylights above the dining table
Enlarged the dining room window
Reconstructed the original kitchen window and replaced the old paint colors on the walls, trim, and ceiling which improved light flow through the entire main level
The integrated dining and living room area warmly greets visitors and are drawn to the marvelous rustic/industrial and contemporary aesthetic elements which merry the eye-catching, vibrant artwork pieces adorning the walls
Result
The clients love their new open concept kitchen! The overall aesthetic look and feel of the design and materials gave the kitchen space a masculine and feminine touch. Incorporating their art work displays into the design process enabled us to provide the clients a contemporary design and rustic/industrial materials that harmoniously complimented each other.
Work with a Kitchen Remodeling Specialist in Northern VA
As a local, second-generation family-owned remodeling company and a remodeling leader, Schroeder Design Build has been designing award-winning kitchens for Northern Virginia families for nearly 40 years. We take pride in producing high-quality work and providing a great client experience. Our numerous five-star reviews speak for themselves.